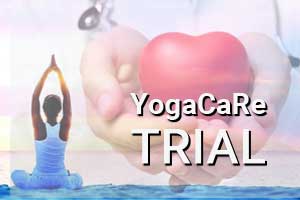 Cheaper and more effective!
Chicago: A massive study that took five years to complete has found the potential of Yoga as a useful alternative to the conventional cardiac rehabilitation programs. The trial has massive implications in providing cost-effective rehabilitation to post MI patients who have to sometimes spend a lot of money for conventional methods of rehabilitation
The collaborative study by ICMR and PHFI researchers says that a yoga-based rehabilitation program in patients with a heart attack is as safe and beneficial as the conventional cardiac rehabilitation therapy. This signifies that ancient yoga and modern medicine in combination can make wonders and provide us with a holistic health care approach.
Read Also: Listening to yoga music at bedtime is good for the heart
The findings of the 5 years long YogaCaRe trial were presented in the American Heart Association Scientific Session in Chicago. This major trial of yoga carried out with the highest scientific standards highlights the potential of traditional practices to play a complementary role in the provision of medical care, particularly given the high costs of managing chronic conditions.
The five-year study ended in September 2018 and was funded by the Indian Council for Medical Research (ICMR) and Medical Research Council (UK).
"The prevalence of ischemic heart disease in India has increased over by 50% and in terms of absolute numbers, has increased from 10 million in 1990 to 24 million in 2016," said Professor Prabhakaran, Vice President, PHFI and Executive Director, CCDC and Principal Investigator of the study.
"The Yoga-CaRe Trial, the largest trial on Yoga as well as cardiac rehabilitation, has shown the potential of Yoga to be an alternative to the conventional CR programs and address the unmet needs of cardiac rehabilitation for patients in low- and middle-income countries. It is safe, relatively inexpensive, does not need an elaborate infrastructure, culturally acceptable and improves quality of life," he added.

The preliminary results of the trial suggest that a yoga-based cardiac rehabilitation programme could improve quality of life and promote earlier return to usual activities. This offers a low-cost and culturally-acceptable effective alternative to standard cardiac rehabilitation programmes that are usually complex and expensive, thereby improving the lives of millions of disadvantaged people worldwide who are in most need of such care.
Read Also: Daily yoga practice improves sperm quality: AIIMS study
Professor Sanjay Kinra, Head, Epidemiology, London School of Hygiene and Tropical Medicine, Co-Principal Investigator of the study said, "Improvements in cardiac care mean that most people nowadays survive a heart attack. The focus has therefore shifted to improving quality of life of survivors of heart attacks so that they can readjust better after such a catastrophic event and contribute maximally to their families and society. This is particularly true in India where heart attacks tend to occur at very young ages."
The benefits of alternative therapeutic approaches, such as yoga, are poorly understood and this is particularly true regarding the beneficial effects on cardiovascular disease (CVD) risk. It is hoped that a better understanding of the value of yoga therapy after the trial results will provide a sound scientific basis for including yoga in mainstream clinical practice. After the largest multi-centered randomized trial, researchers hope Yoga will be used more in low and middle-income countries.
Yoga helps energize both body and mind leading to a better physical and mental health. Yoga has its roots intact over 5000 years and through ages, Yoga has helped to achieve a relaxed and positive emotional state.