ICMR develops Ayurvedic Capsule to Cure Dengue, currently under Trial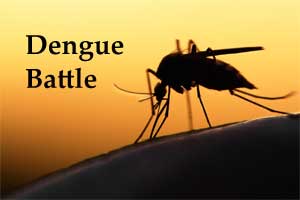 Belagavi: Indian scientists associated with the Indian Council of Medical Research have created first of its kind of Ayurvedic medicine to cure Dengue, the fastest growing mosquito-borne disease in the world.
The medicine comes in the form of a new capsule that can control dengue fever and has been developed by the central government-owned Indian Council of Medical Research (ICMR) center in Belagavi, Karnataka. The capsule is a purely ayurvedic drug using herbs. Currently, the capsule is under testing and once the report is out, the Food and Drug control authority will take its final decision on the same.
According to Professor Vaidya KS Dhiman, Director General of CCRAS, the Double-Blind Placebo-Controlled Clinical Trial, which is a medical study involving human participants and is an internationally accepted method of testing is going on in the medical colleges of Belgaum and Kolar. This drug has been made with seven herbal ingredients which are in use in Ayurveda system of medicine for centuries, Dhiman said to Hindustan Times
Dhiman told the media that the researchers started working on making the drug in 2015 and in the process pilot studies were conducted which proved the clinical safety and efficacy of the drug in the management and treatment of dengue.
Before the capsule formula was put together, an Ayurvedic drink called Kashaya was researched and given to some patients. The drink was rejected because it was very sour and gave late results.
Director of ICMR, Mr. S.L.Hoti told the ET Healthworld, "The capsule has shown positive results and if the concerned authorities give permission, the capsule might be available for sale from October.
According to WHO, dengue is the fastest growing mosquito-borne disease in the world today, causing nearly 400 million infections every year. India in 2017 has seen 15, 7220 cases of dengue and 250 deaths due to the disease (till December 24), as per the National Vector Borne Disease Control Programme (NVBDCP) data. In 2016, the country registered 129166 cases and 245 deaths.
Dengue fever, also known as a break-bone fever, is an infectious tropical disease caused by the dengue virus. Symptoms include fever, headache, muscle and joint pains and a characteristic skin rash. In a small number of cases, the disease develops into the life-threatening dengue hemorrhagic fever, resulting in bleeding, low levels of blood platelets and plasma leakage or into dengue shock syndrome, where very low blood pressure occurs.
Source : press release