Iclaprim-Novel Antibiotic for bacterial skin infections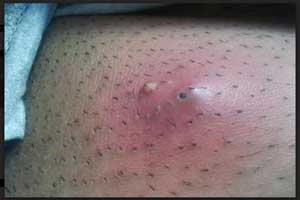 The Food and Drug Administration (FDA) accepted the New Drug Application (NDA) for iclaprim, a targeted, Gram-positive investigational antibiotic, for the treatment of acute bacterial skin and skin structure infections (ABSSSI), announced Motif Bio plc, a clinical-stage biopharmaceutical company specialized in developing novel antibiotics.
According to the company officials the acceptance of the filing of the NDA by the FDA, Iclaprim will receive priority review - a review period of six months instead of the standard ten months.
"The NDA submission for iclaprim is a major milestone for Motif Bio. Our team of experts has worked tirelessly to achieve this important goal," said Graham Lumsden, Chief Executive Officer, Motif Bio plc."We look forward to working with the FDA with the goal of bringing this antibiotic candidate to patients as expeditiously as possible."
Iclaprim has received Qualified Infectious Disease Product (QIDP) designation from the FDA together with Fast Track Designation. If iclaprim is approved as a new chemical entity with QIDP designation, it will be eligible for 10 years of market exclusivity in the U.S. starting from the date of approval.
Two Phase 3 trials (REVIVE-1 and REVIVE-2) have approved the safety and efficacy data of Iclaprim after comparing the intravenous iclaprim to standard-of-care vancomycin in patients with ABSSSI. The results showed that the studies met their primary endpoints of non-inferiority compared with vancomycin at the early timepoint, 48 to 72 hours after treatment initiation.
The study also revealed that iclaprim was found to be well-tolerated with most patients experiencing only mild adverse effects. Compared with iclaprim-treated patients, those treated with vancomycin had a higher incidence of elevated serum creatinine (0 patients vs 7 patients).
The Company believed that based on the data from the Phase 3 REVIVE studies, that iclaprim may be suitable for first-line empiric therapy in ABSSSI patients, including those with renal impairment, with or without diabetes.
Acute bacterial skin and skin structure infection (ABSSSI), is an infection of the skin and associated soft tissues (such as loose connective tissue and mucous membranes).
Source : press release