IBS patients at higher risk of developing asthma, finds study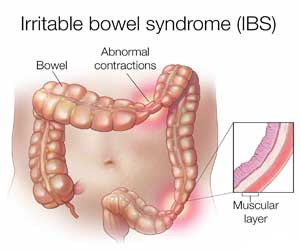 USA: Patients with irritable bowel syndrome (IBS) are at higher risk of developing asthma and vice versa, a recent study published in the Annals of Gastroenterology journal has found.
Irritable bowel syndrome is a functional gastrointestinal disorder. It is characterized by a mixture of symptoms including abdominal pain, bloating and diarrhea caused due to abnormal muscular movement of the bowel. It is the most prevalent functional gastrointestinal disorder observed in the general population worldwide. Since, the disease is chronic in nature, signs, and symptoms may vary from mild to severe periodically. Diagnosing IBS is often challenging, as it frequently presents with other complicated rheumatological and psychiatric conditions.
Asthma is a condition characterized by inflamed, narrow and swelled airways producing extra mucus. This makes breathing difficult and triggers wheezing, shortness of breath and coughing. It has often been associated with gastrointestinal conditions such as gastroesophageal reflux disease and eosinophilic esophagitis.
This systematic review and meta-analysis by
Farah Deshmukh, Bassett Medical Center and Columbia University College of Physicians and Surgeons, New York, USA, and colleagues summarize
the available literature about the association of IBS and asthma in the adult population.
The researchers conducted a comprehensive literature review using online databases through January 2019. Case-control, cross-sectional and cohort studies that evaluated the association between asthma and IBS were divided into 2 groups: the first included studies that identified patients with asthma first and then looked for the presence of IBS. The second group included studies that identified IBS patients first and then looked for the presence of asthma. Random effects meta-analysis was conducted using STATA 15.
Key findings of the study include:


The search strategy generated a total of 634 studies and 10 eligible studies (8 case-control and 2 cross-sectional) were selected for meta-analysis.


The analysis showed that asthmatics have twice the risk of having IBS (pooled odds ratio [OR] 2.0), and patients with IBS have twice the risk of having asthma (pooled OR 2.2).


"Physicians should look out for pulmonary symptoms in IBS patients and consider an evaluation with spirometry when necessary. Likewise, asthmatics presenting with gastrointestinal symptoms may need consultation and evaluation for IBS," concluded the authors.
The study, "Association between irritable bowel syndrome and asthma: a meta-analysis and systematic review," is published in the Annals of Gastroenterology journal.
Source : Annals of Gastroenterology