Hyperglycemia Management in T2 Diabetes: ADA 2018 Consensus Report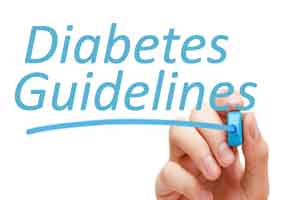 The American Diabetes Association (ADA) and the European Association for the Study of Diabetes (EASD) have jointly presented a new guidance document Management of Hyperglycemia in Type 2 Diabetes, 2018: A Consensus Report by the American Diabetes Association and the European Association for the Study of Diabetes (ADA-EASD Consensus Report).
The guidance document has been produced by an international panel of diabetes care experts. It calls for a paradigm shift to patient-centered care and details the panel's comprehensive review of the latest evidence. The ADA-EASD Consensus Report has been published in Diabetes Care and Diabetologia.
The ADA-EASD Consensus Report recommends patient-centred care that accounts for each individual's health history and status, weight, costs of care, and preferences. While the algorithms focus on the choice of diabetes medications, the report also highlights the critical importance of comprehensive lifestyle management and diabetes self-management education and support in the overall health of people with type 2 diabetes.
For the first time, the ADA-EASD Consensus Report includes specific pharmacologic recommendations based on a patient's profile and health history, providing instructions in the context of ASCVD, heart failure, kidney disease, weight, risk for hypoglycemia, or a need for low-cost options.
Key Recommendations -


Lifestyle management is a key factor in managing type 2 Diabetes.


Metformin remains the preferred first-line agent.


Glucagon-like peptide 1 (GLP-1) receptor agonists are now recommended as the first injectable medication prior to insulin for most adults with type 2 diabetes who need the greater blood glucose-lowering of an injectable medication.


For patients with chronic kidney disease, a sodium-glucose cotransporter 2 (SGLT2) inhibitor with proven benefits is recommended.


Individual medications in both the GLP-1 receptor agonist and SGLT2 inhibitor classes have been shown to have cardiovascular benefits.


The panel recommends the target HbA1c to increase microvascular benefits is 7 per cent or less (53 mmol/mol) for most nonpregnant adults with sufficient life expectancy


The target HbA1c may be individualized based on patient preferences and goals; risk of adverse effects including hypoglycemia and weight gain; and patient characteristics including frailty and comorbid conditions.


The cost, adherence and tolerability burdens have been added as factors to be considered for all medication therapy.


A patient's medication-taking and self-management behaviour (adherence) be specifically considered as part of the decision cycle, ensuring a good match between patient and care plan. Inconsistent medication-taking behaviour affects almost half of people with diabetes, which leads to suboptimal blood glucose control and increased CVD risk.


All patients should be offered access to ongoing Diabetes Self-Management Education and Support (DSMES) programs in order to help patients cope with the daily challenges of living with diabetes, which can increase adherence to the diabetes care plan. DSME/S programs provide essential information to increase the patient's ability to successfully and effectively manage their diabetes every day.


The comprehensive care plan must also include intensive lifestyle interventions including nutrition and physical activity to ensure a healthy weight.


Medical nutrition therapy, including healthy eating advice and strategies, should be offered to all patients. Increased and regular physical exercise is recommended for all people with type 2 diabetes.


The panel also recommends metabolic surgery for adults with type 2 diabetes and either 1) BMI ≥40 (BMI ≥37 for people of Asian ancestry) or 2) BMI ≥35 but <40 (BMI ≥32.5 or <35 for people of Asian ancestry) who are not able to achieve sustainable weight loss through intensive, non-surgical programs. For BMI ≥30-35, metabolic surgery may be considered.


While the ADA-EASD Consensus Report panel makes bold recommendations that can improve outcomes, the panel also urges more targeted research to help further define and improve patient outcomes— "As the cost implications for these various approaches is enormous, the evidence is desperately needed. Defining optimal cost-effective approaches to care, particularly in the management of patients—including those with multi-morbidity—is essential. Addressing these and other vital clinical questions will require additional investment in basic, translational, clinical and implementation research."
For further reference log on to :
Management of Hyperglycemia in Type 2 Diabetes, 2018: A Consensus Report by the American Diabetes Association and the European Association for the Study of Diabetes
Source : With inputs from Diabetes Care�and�Diabetologia