................................ Advertisement ................................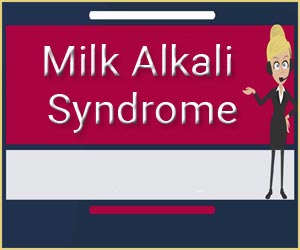 Milk-alkali syndrome is a triad of hypercalcemia, metabolic alkalosis, and renal insufficiency. This is associated with the ingestion of large amounts of calcium and absorbable alkali. Since the advent of new treatment modalities for peptic ulcer disease, the incidence of milk alkali syndrome has decreased. By 1985, the milk-alkali syndrome was considered the cause of less than one percent of cases of hypercalcemia.
However, there has been a resurgence of this disorder, as it now accounts for up to 12 percent of cases, making it the third leading cause of hypercalcemia behind primary hyperparathyroidism and malignancy.
................................ Advertisement ................................
A 38-year-old Caucasian male with history significant for GERD, hiatal hernia & eczema presents with chief complaint of altered mental status. His symptoms started a week ago when he had nausea, vomiting, abdominal pain, diarrhea, low-grade fever, weakness and decreased oral intake. Most of his symptoms resolved but he continued to have myalgias, abdominal pain, weakness and fatigue. He attributed this to his new job as night time security officer. Meanwhile he also developed bilateral lower extremity pain, cramps, constipation, tremors and headaches. He also reported 14 pounds unintentional weight loss in 2 weeks. He denied any history of sick contact, recent travel or previous similar episodes. His home medications were Tylenol and tums (calcium carbonate). He is a social drinker, he has quit smoking five months ago and denied any recreational drug use. Being an adopted child, he was unsure about his family history.
On physical examination, temperature was 96.9 F, heart rate was 95 bpm, blood pressure was 202/104 mm Hg, respiratory rate was 20 saturating 96% on room air.
................................ Advertisement ................................
Patient was awake, alert and oriented, was in mild distress and had sluggish verbal responses. His mucous membranes were dry. Abdominal examination revealed diffuse tenderness on deep palpation. Bilateral calf tenderness was present. Bilateral lower extremity power decreased to 2/5. Rest of the physical examination was unremarkable. EKG showed prolonged T waves with a normal QT interval. CT head was normal. The patient was admitted to the intensive care unit for his hypertensive urgency and electrolyte imbalances. Further history was elicited on his tums (calcium carbonate) consumption once hypercalcemia was detected. Laboratory workup for hypercalcemia was done as outlined in. He admitted ingestion of 10-15 gms of tums every day. On the basis of the laboratory findings and clinical picture, Milk-Alkali syndrome was suspected and patient was started on aggressive hydration.
For more details click on the link: doi:10.5348/101004Z01DS2019CR
Hina Zahid Joined Medical Dialogue in 2017 with a passion to work as a Reporter. She coordinates with various national and international journals and association and covers all the stories related to Medical guidelines, Medical Journals, rare medical surgeries as well as all the updates in the medical field. Email: hina@medicaldialogues.in. Contact no. 011-43720751
To know about our editorial team click here
................................ Advertisement ................................