Hyperbaric oxygen beneficial in host of urological diseases: International Journal of Urology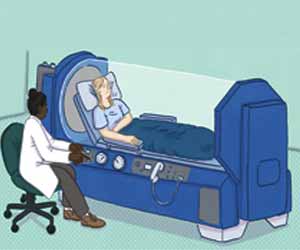 Japan: Hypoxia is a condition characterized by the absence of sufficient oxygen in the tissues and plays a role in many processes essential to urologic care wound healing to tumor progression. Hyperbaric oxygen (HBO) is a medical technology that delivers oxygen to the targeted tissues at high pressure to increase the amount of dissolved in the blood.
A recent study in the International Journal of Urology has shown the benefits of HBO for urological diseases. Following data support the use of HBO for various urological conditions:


Hemorrhagic cystitis: Resolution rates of post-radiation hematuria have been reported up to 60% to 100% using approximately 30 sessions of HBO. HBO has also been shown to lower recurrence rates of hematuria.


Interstitial cystitis: HBO for 2 to 4 weeks has shown symptomatic improvement in small studies. Compared with alternatives such as Botox or hydrodistension, it is noninvasive and repeatable.


Infertility and acute kidney injury: Benefits of HBO are largely based on animal studies, but further studies may be forthcoming.


Fournier gangrene: Wound healing and tissue perfusion are critical to good outcomes. Limited retrospective data suggest that adding HBO may reduce mortality and hospital length of stay.


Cancer: Contrary to prior thoughts that oxygenation may promote cancer progression, studies have demonstrated that HBO does decrease tumor aggressiveness and, in fact, may reduce the hypoxia in the tumor microenvironment and associated reactive oxygen species. However, there is limited evidence supporting its direct use in urologic cancers."


Over the past three decades, hyperbaric oxygen has been used in a variety of conditions, including radiation-induced tissue injuries, non-healing states with ischemia and malignant neoplasms. In the field of urology, hyperbaric oxygen has also been applied to some pathological conditions (e.g. radiation-induced hemorrhagic cystitis, Fournier gangrene, interstitial cystitis, male infertility, acute kidney injury and urological cancers). However, further research, including multicenter clinical studies, is essential for determining the role of hyperbaric oxygen therapy in refractory urological diseases that are resistant to conventional therapies.
Tomoaki Tanaka, Department of Urology, Suita Municipal Hospital, Suita, Osaka, Japan, and colleagues focus on the appropriate urological indications for HBO and discuss the current state of knowledge of HBO therapy in the field of urology.
Based on the findings, the authors concluded that the biological effects of HBO are known to differentiate in normal, injured and cancer tissues. Although there is limited clinical evidence regarding the efficacy of HBO therapy for various urological diseases, except for RHC (radiation‐induced hemorrhagic cystitis), further research will hopefully aid the development of a novel treatment strategy for intractable diseases, including IC/PBS (interstitial cystitis/painful bladder syndrome) and CRPC (castration‐resistant prostate cancer).
Source:
Potential of hyperbaric oxygen in urological diseases
DOI: https://doi.org/10.1111/iju.14015