Hyperbaric Oxygen doesn't significantly Benefit Diabetic Foot Ulcers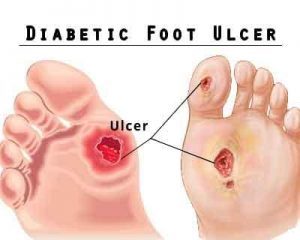 According to results of a randomized controlled trial published in Diabetes Care, the researchers Dr.Katrien T.B. Santema of Academic Medical Center in Amsterdam and associates have concluded that Hyperbaric oxygen therapy (HBOT) does not significantly improve wound healing or prevent amputation in diabetes patients with ischemic lower-extremity ulcers.
Chronic ulcers occur in up to 11% of patients with diabetes every year, treatment of which may consist of pressure offloading, optimizing blood-glucose control, surgical revascularization and local wound care. Due to unsuccessful treatment, Up to 23% of patients require amputation two years after a revascularization procedure. For this reason, HBOT is sometimes used in clinical practice for improving wound oxygenation to speed healing but evidence for its benefits has been mixed.
The Multicenter Randomized Clinical Trial was conducted to investigate whether additional HBOT would benefit patients with diabetes and ischemic leg ulcers as conflicting evidence exists on the effects of hyperbaric oxygen therapy (HBOT) in the treatment of chronic ischemic leg ulcers.
In the trial, the researchers assigned 120 patients with ischemic wounds to receive standard care (SC) or SC plus up to forty 90-minute sessions of HBOT, five times a week. Primary outcomes were limb salvage and wound healing after 12 months, as well as time to wound healing. Other endpoints were amputation-free survival (AFS) and mortality.
It was found that both groups contained 60 patients. Limb salvage was achieved in 47 patients in the SC group vs. 53 patients in the SC+HBOT group (risk difference [RD] 10% [95% CI −4 to 23]). After 12 months, 28 index wounds were healed in the SC group vs. 30 in the SC+HBOT group (RD 3% [95% CI −14 to 21]). AFS was achieved in 41 patients in the SC group and 49 patients in the SC+HBOT group (RD 13% [95% CI −2 to 28]). In the SC+HBOT group, 21 patients (35%) were unable to complete the HBOT protocol as planned. Those who did had significantly less major amputations and higher AFS (RD for AFS 26% [95% CI 10–38]).The study participants who were able to complete at least 30 sessions were usually in better shape than those who could not.
It was therefore concluded that additional HBOT did not significantly improve complete wound healing and limb salvage in patients with diabetes and lower limb ischemia. Although the treatment did significantly improve limb salvage for a subset of patients who received at least 30 HBOT sessions or who stopped HBOT treatment early because their wound had fully healed. and colleagues found.