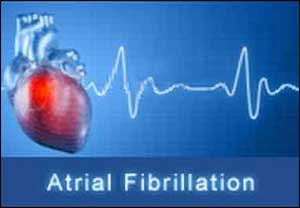 A recently published interesting case in the journal Annals of Internal Medicine, has cited a case, in which the use of hyoscyamine led to the prevention of pacemaker placement in a patient with symptoms caused by a slow ventricular response during atrial fibrillation.
The case is that of a 98-year-old man, who was admitted to the emergency department with dementia, atrial fibrillation, a chronic indwelling urinary catheter, recurrent syncope, bradycardia and metastatic prostate cancer, as described by Scott A. Helgeson, MD, from the Mayo Clinic in Jacksonville, Florida, and colleagues.
Electrocardiography documented atrial fibrillation with a slow ventricular response and right bundle branch block; blood pressure was 72/40mmHg and heart rate was 35 beats/minute.
Atrial fibrillation typically presents with tachycardia; atrial fibrillation with bradycardia is much less common. Bradycardia may be due to drugs affecting the atrioventricular node, increased vagal tone, or conduction system disease. Symptomatic bradycardia caused by conduction system disease is often treated with a pacemaker because medications are not usually effective.
Atropine, glycopyrrolate, hyoscyamine, and other anticholinergic drugs inhibit receptors that are present in cardiac and smooth muscle, the sinoatrial and atrioventricular node and the exocrine glands. These drugs are often used to decrease urinary bladder contractions and secretions of the pharynx, stomach, trachea, and bronchus and inhibit gastrointestinal propulsion. They are also used preoperatively to block cardiac vagal inhibitory reflexes during anesthesia induction and intubation.
The researchers decided to try treatment with medication therapy because of the patient's comorbidities. Intravenous glycopyrrolate was administered, and his heart rate increased to 73 beats/minute. A similar but prolonged response was seen after administration of 0.125mg sublingual immediate-release hyoscyamine. The patient did not develop tachycardia overnight and was discharged the following day while receiving hyoscyamine four times daily. At routine follow-up four weeks later, the patient had experienced no syncope and had a resting heart rate of 73 beats/minute.
"Clinicians may want to attempt this approach in patients with atrial fibrillation who have a slow ventricular response and would qualify for a pacemaker but have comorbidities that make this intervention less desirable," the authors write.
For further information click on the link:  10.7326/L18-0037