Hydrocortisone, Vitamin C and thiamine reduce vasopressor need in Sepsis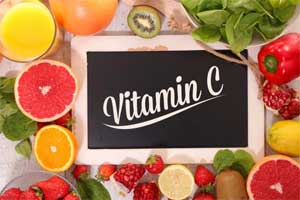 Combination of vitamin C, thiamine and hydrocortisone reduces vasopressor requirement in adult cardiac surgical patients with septic shock, according to a study published in the Indian Journal of Anaesthesia.
Sepsis affects an estimated 15–19 million cases per year worldwide. Sepsis following cardiac surgeries has been known to have catastrophic consequences.
Mahesh Balakrishnan and associates conducted a double-blinded randomized control study to evaluate the effect of vitamin C, hydrocortisone and thiamine on vasopressor requirement and mortality in postoperative adult cardiac surgical patients with septic shock.
Read Also: Long term Vitamin C supplementation improves Diabetes , high BP
The primary outcome was Vasopressor dose over 4 days of therapy whereas in-hospital mortality was the secondary endpoint.
Twenty-four patients were randomized into two groups [Group 1 control (placebo) and Group 2 study (vitamin C)]. The method consisted of six blocks, each containing four patients in a random manner.
The study found that vitamin C treatment reduces dose and duration of vasopressors as compared to placebo treatment.T he dose of noradrenaline and vasopressin over 4 days was significantly lower in Group 2 compared to Group 1 during the study period. Oral supplementation is ineffective hence parenteral supplementation is advocated.
Read Also: Early Thiamine supplementation reduces mortality in patients of septic shock
Deficiency of ascorbic acid is associated with decreased norepinephrine in adrenal glands as per the previous reports. Insufficiency in adrenal hormone synthesis has also been observed in critically ill patients. Vitamin C is a potent antioxidant that directly scavenges oxygen free radicals; restores other cellular antioxidants, including tetrahydrobiopterin and α-tocopherol; and is an essential cofactor for iron- and copper-containing enzymes.
The overall benefit of ascorbic acid, thiamine, and hydrocortisone is most likely due to their overlapping pathways and their interaction in the body.
"Early use of intravenous vitamin C, together with hydrocortisone and thiamine, may prove to be effective in the reduction of vasopressors dosage and mortality of patients with severe sepsis and septic shock," write the authors.
Source : wITH INPUTS FROM Indian Journal of Anaesthesia