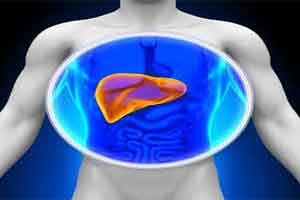 A rare case of cholestatic liver injury following the initiation of hydralazine, to treat poorly controlled hypertension appears in the American Journal of Case Reports.
The case is of a 74-year-old male patient who was admitted to the hospital with complaints of severe nausea, dizziness, weakness and right-upper-quadrant abdominal pain. The reports of laboratory test showed an increased level of liver enzymes which were initially attributed to amiodarone and atorvastatin. However, the patient's total bilirubin continued to be on the higher side even after discontinuing these agents. The clinicians came to know that he was taking hydralazine 50 mg 3 times a day 2 months prior to this admission, for uncontrolled hypertension. After additional testing ruled out other causes of hepato-toxicity, hydralazine was discontinued which led to gradual clinical and biochemical recovery.
Hydralazine, a phthalazine derivative, lowers blood pressure by exerting a peripheral vasodilating effect through a direct relaxation of the vascular smooth muscle. Although generally an uncommon side effect, hydralazine-induced hepatotoxicity can occur as early as 2–6 weeks after initiating treatment, with some reports indicating latency periods ranging from 2 months to 1 year.
Read Also: Rare case of death from hepatitis A linked to pomegranate seeds recall
According to the authors in most case reports, the hepatic injury was reversed within a few days to weeks of stopping hydralazine. But re-exposure to hydralazine has been reported to result in recurrence of hepatotoxicity.
The authors concluded that it is imperative that clinicians be aware of the possible hepatotoxicity of hydralazine and its clinical features so that the medication can be promptly discontinued to help promote liver recovery and the present case report will add to the current literature about such infrequent cases of hydralazine-induced hepatotoxicity.
For reference log on to https://www.amjcaserep.com/download/index/idArt/909279