Hyderabad: Apollo Hospital Performs rare liver transplant on an infant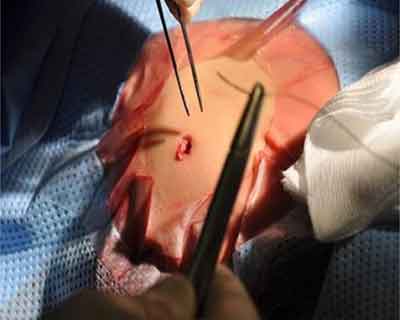 Hyderabad: Apollo Hospitals said it performed a "rare" liver transplant on a six and half month baby boy weighing 5.5 kgs.
The Liver Transplant team at the hospital at Jubilee Hills here led by Dr Manish C Varma, Chief Transplant Surgeon performed the critical surgery on the baby boy, who was suffering from Biliary atresia.
The transplant was carried out by taking a slice of the baby's father's liver on October 13. The infant is doing well and has since been discharged, according to a release from Apollo Hospitals.
Biliary atresia is a congenital liver condition where the bile cannot drain from the liver through the bile ducts to the intestines. Bile helps to digest fats in the body and also carries waste products from the liver to the intestines for excretion. It occurs in 1 in 10,000 to 1 in 15,000 children.
If they are not treated they become malnourished and are easy prey for infections and complications of cirrhosis and a majority of them do not survive beyond 2 years.
This patient Nitesh had developed jaundice a few weeks after his birth. His parents consulted local doctors in Bhimavaram, from where they hail. After diagnosis in Apollo, Nitesh was found to be suffering from very high jaundice and had already developed liver cirrhosis, he was very small weighing just about 5.5 kgs.
"The donor (father) was discharged on sixth day after surgery and the baby was discharged after 2 weeks of transplant. Nitesh will need immunosuppressants all his life, but his overall growth will be normal. There will not be any long term limitations to his growth, learning and life expectancy," Dr Manish Varma added.
Source : PTI