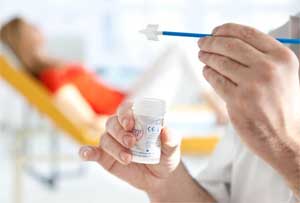 A new study published in the journal JAMA suggests that cervical HPV (human papillomavirus) testing may be able to detect signs of cervical cancer earlier and more effectively than Pap smear over a 48-month period.
Gina Suzanne Ogilvie, Faculty of Medicine, University of British Columbia, Vancouver, British Columbia, Canada, and colleagues conducted the study to evaluate histologically confirmed cumulative incident cervical intraepithelial neoplasia (CIN) grade 3 or worse (CIN3+) detected up to and including 48 months by primary HPV testing alone (intervention) or liquid-based cytology (control).
Cervical cancer is among the easiest gynecologic cancers to prevent, and two screening tests can help in early detection of the disease: the routine Pap smear and testing for HPV.
Current screening guidelines from the U.S. Preventive Services Task Force recommend women ages 30 to 65 have a Pap smear every three years, or every five years if an HPV test is done at the same time.
The cytology-based Pap smear involves looking for cancer or precancer cells by testing cells taken from the lower end of a woman's uterus, called the cervix. Diagnosing diseases by looking at single cells and small clusters of cells is called cytology or cytopathology.
Read Also: Domi Care a new at-Home Pap Smear Test for women
HPV testing involves testing of woman's cervix for the presence of certain high-risk types of HPV that can cause cancers, including cervical cancer. The testing also can be done on samples of vaginal and cervical secretions that clinicians or women themselves gather with a swab — a less invasive process than the Pap. The FDA in 2014 approved the first HPV test.
Cervical cancer is the fourth most frequent cancer in women globally, according to the World Health Organization. There were an estimated 530,000 new cases in 2012, representing 7.9% of all female cancers.
The randomized clinical trial was conducted in an organized Cervical Cancer Screening Program in Canada. Participants were recruited through 224 collaborating clinicians from January 2008 to May 2012, with follow-up through December 2016. Women aged 25 to 65 years with no history of CIN2+ in the past 5 years, no history of invasive cervical cancer, or no history of hysterectomy; who have not received a Papanicolaou test within the past 12 months; and who were not receiving immunosuppressive therapy were eligible.
Read Also: First global Guidelines for HPV vaccination for cervical cancer prevention
The primary outcome was the cumulative incidence of CIN3+ 48 months following randomization. The cumulative incidence of CIN2+ was a secondary outcome.
Among 19 009 women who were randomized (mean age, 45 years [10th-90th percentile, 30-59]), 16 374 (8296 [86.9%] in the intervention group and 8078 [85.4%] in the control group) completed the study.
Key Findings:
At 48 months, significantly fewer CIN3+ and CIN2+ were detected in the intervention vs control group.
The CIN3+ incidence rate was 2.3/1000 (95% CI, 1.5-3.5) in the intervention group and 5.5/1000 (95% CI, 4.2-7.2) in the control group.
The CIN3+ risk ratio was 0.42 (95% CI, 0.25-0.69).
The CIN2+ incidence rate at 48 months was 5.0/1000 (95% CI, 3.8-6.7) in the intervention group and 10.6/1000 (95% CI, 8.7-12.9) in the control group.
The CIN2+ risk ratio was 0.47 (95% CI, 0.34-0.67).
Baseline HPV-negative women had a significantly lower cumulative incidence of CIN3+ at 48 months than cytology-negative women (CIN3+ incidence rate, 1.4/1000 [95% CI, 0.8-2.4]; CIN3+ risk ratio, 0.25 [95% CI, 0.13-0.48]).
"Among women undergoing cervical cancer screening, the use of primary HPV testing compared with cytology testing resulted in a significantly lower likelihood of CIN3+ at 48 months. Further research is needed to understand long-term clinical outcomes as well as cost-effectiveness," concluded the authors.
For further information follow the link: 10.1001/jama.2018.7464