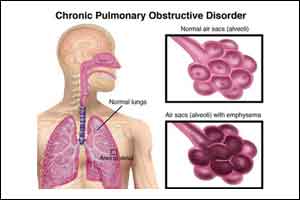 Dr. Martina Koeva and associates in a series of in vitro studies in mucoid and nonmucoid isolates from patients with CF or chronic obstructive pulmonary disease, explored the activity of fumarate (a Krebs cycle intermediate that promotes the proton-motive-force–mediated uptake of aminoglycoside antibiotics) as a metabolic stimulator that brings P. aeruginosa out of the persister state, thereby sensitizing these bacteria to tobramycin. The researchers found that Fumarate markedly enhanced tobramycin's ability to kill P. aeruginosa persisters.
Bacterial persisters are a quasidormant subpopulation of cells that are tolerant to antibiotic treatment and in Pseudomonas aeruginosa   infections they can be a problematic pathogen especially  in patients who receive multiple courses of antibiotics, such as those with cystic fibrosis (CF).Most CF patients ultimately become chronically infected with P. aeruginosa, leading to decline in lung function. The combination of the aminoglycoside tobramycin with fumarate as an antibacterial potentiator utilizes an antipersister strategy that is aimed at reducing recurrent Pseudomonas aeruginosa infections by enhancing the killing of P. aeruginosa persisters.
Stationary-phase cultures of P. aeruginosa were used to generate persister cells. A range of tobramycin concentrations was tested with a range of metabolite concentrations to determine the potentiation effect of the metabolite under a variety of conditions, including a range of pH values and in the presence of azithromycin or cystic fibrosis (CF) patient sputum. In addition, 96-well dish biofilm and colony biofilm assays were performed, and the cytotoxicity of the tobramycin-fumarate combination was determined utilizing a lactate dehydrogenase (LDH) assay. Enhanced killing of up to 6 orders of magnitude of P. aeruginosa persisters over a range of CF isolates, including mucoid and nonmucoid strains, was observed for the tobramycin-fumarate combination compared to killing with tobramycin alone.
Furthermore, significant fumarate-mediated potentiation was seen in the presence of azithromycin or CF patient sputum. Fumarate also reduced the cytotoxicity of tobramycin-treated P. aeruginosa to human epithelial airway cells. Finally, in mucoid and nonmucoid CF isolates, complete eradication of P. aeruginosa biofilm was observed in the colony biofilm assay due to fumarate potentiation.
The authors concluded that a combination of tobramycin with fumarate as an antibacterial potentiator may be an attractive therapeutic for eliminating recurrent P. aeruginosa infections in CF patients through the eradication of bacterial persisters. Although in the presence of azithromycin, fumarate's potentiation of tobramycin was attenuated it was still apparent. Fumarate also protected epithelial airway cells against P. aeruginosa.
For further reference log on to:
Koeva M et al. An antipersister strategy for treatment of chronic Pseudomonas aeruginosainfections. Antimicrob Agents Chemother 2017 Dec 22; 61:e00987. (http://dx.doi.org/10.1128/AAC.00987-17)