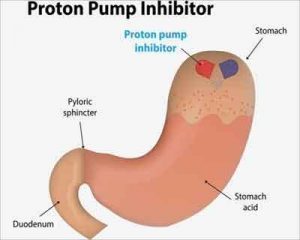 Chronic use of PPIs has gained attention recently with the evidence of widespread overuse of the popular drugs and growing concern about the risk for long-term adverse events associated with the medications. Chronic acid suppression can lead to a host of complications if we inhibit acid production long term.
Increased risk of heart attack.
Increased risk of pneumonia.
Bacterial infections introduced through foods.
Increased risk of a Clostridium difficile infection.3
Decreased absorption of vitamin B12, calcium, magnesium, iron and other nutrients leading to bone fractures, hypomagnesemia, and cardiac arrhythmias.
Reduced ability of the lower esophageal sphincter (LES) to close due to low stomach acid levels. Higher acid levels are needed to induce the proper closure of the LES.
Increased risk of Barrett's esophagus which can lead to cancer.
Increased risk of esophageal cancer.
Increased risk of chronic kidney disease.
Increased risk of liver damage.
Increased mortality risk.
A high proportion of patients taking chronic proton pump inhibitors for gastroesophageal reflux disease can be successfully weaned from treatment without symptom recurrence through tapering strategies, according to two independent studies.
One study found that tapering reduced the risk for relapse compared with abrupt discontinuation. The other study found that  80% of patients who participated in a tapering program had no recurrence of GERD once off their antireflux medication. In both studies, patients with an indication for a chronic PPI, such as Barrett's esophagus or unhealed esophagitis were excluded.
Patients with a diagnosis of GERD without red flag symptoms or endoscopic evidence of mucosal lesions should be considered for discontinuation of PPI therapy to reduce unnecessary costs and associated complications," said Katherine Cheng, MD, who is completing a fellowship in the Department of Pediatrics at Indiana University School of Medicine, in Indianapolis. Dr. Cheng presented one of the studies at the 2017 Digestive Disease Week (abstract 469) that found tapering of the PPI is the best way to accomplish this task.
In a chart review, Dr. Cheng and her colleagues identified 123 patients on chronic daily PPIs for GERD who discontinued treatment with a strategy that involved either antacid drug tapering or abrupt discontinuation.
The tapering schedule was as follows-
When tapered, patients received twice-daily H2-receptor antagonists (H2RAs) for two weeks
This was followed by once-daily H2RAs for another two weeks
Complete discontinuation of antisecretory therapy.
The remainder discontinued the PPI immediately. Symptom remission and PPI use were assessed three months after discontinuation.
In the study of the patients evaluated, 46 (37%) were eligible for discontinuation, but the success rate for discontinuation was high. After three months, two of the 19 patients (10%) who received a tapering regimen had relapsed, compared with a rate of 37% in the group that underwent abrupt discontinuation, according to the researchers. The relapse-free difference at three months translated into an odds ratio of 0.11 (P=0.046) in favor of tapering.
Although age, smoking status and respiratory comorbidities did not appear to affect the risk for recurrence, people with a higher body mass index were significantly more likely to relapse (27.8 vs. 44.2 kg/m2; P<0.001).
The best strategy to get Off PPIs is to follow the undermentioned  5 Steps:
Gradually reduce the dosage by 25%-50% each week until you are taking half your current dosage. Wean off PPIs slowly to reduce the likelihood of acid rebound.
Reduce intake frequency. If taking 2x daily, take once a day for a week. When at once a day, step down to every other day for a week.
Change to an H2 blocker and wean down from H2 blocker to antacid using the same steps as in 1&2.
At this point, occasional heartburn can be treated with antacids and an H2 blocker when necessary.
Lifestyle and diet changes should be permanently maintained.
These steps have to be supplemented with Avoiding Heartburn trigger foods, losing excess weight, Stopping Tobacco and Nicotine, avoiding the use of prohibited drugs and last but not the least avoiding Stress.
References :