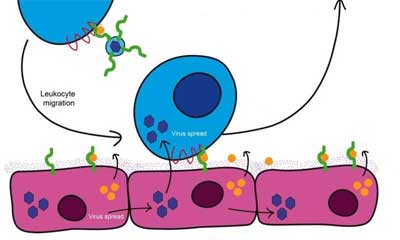 The virus that causes chickenpox — varicella zoster virus (VZV) — possesses a protein that could enhance its ability to hijack white blood cells and spread throughout the body, according to new research published in PLOS Pathogens.
The findings, presented by Víctor González-Motos of Hannover Medical School, Germany, and colleagues, may provide new insight into the poorly understood mechanism by which VZV spreads after initial infection in the respiratory tract.
VZV causes chickenpox in children and can reactivate later in life to cause shingles. After infecting the respiratory tract, the virus hijacks the immune system's white blood cells, using them to spread in the body — including to the skin to cause chickenpox.
To better understand this process, the researchers investigated whether VZV influences the function of chemokines, small immune system proteins that attract white blood cells to sites of infection and guide their movement within the body.
The scientists focused on a VZV protein known as glycoprotein C, since previous research suggested it may play an important role in the infection cycle. In the lab, they performed chemotaxis experiments and found that the addition of glycoprotein C enhances the ability of chemokines to attract white blood cells, including white blood cells from the tonsils, which are a major target of VZV during initial infection.
Further experiments uncovered the molecular details of the interaction between glycoprotein C and chemokines. The researchers also showed that VZV viral particles that had been genetically engineered to remove glycoprotein C had a reduced ability to enhance chemokine attraction of white blood cells, indicating the importance of glycoprotein C for this process.
Overall, these results suggest that glycoprotein C may interact with chemokines to attract more white blood cells to the site of VZV infection, where the virus can hijack the white blood cells to spread to other parts of the body. Further research is needed to investigate whether this hypothesis holds up in human tissue.
For more details click on link : Víctor González-Motos, Carina Jürgens, Birgit Ritter, Kai A. Kropp, Verónica Durán, Olav Larsen, Anne Binz, Werner J. D. Ouwendijk, Tihana Lenac Rovis, Stipan Jonjic, Georges M. G. M. Verjans, Beate Sodeik, Thomas Krey, Rudolf Bauerfeind, Thomas F. Schulz, Benedikt B. Kaufer, Ulrich Kalinke, Amanda E. I. Proudfoot, Mette M. Rosenkilde, Abel Viejo-Borbolla. Varicella zoster virus glycoprotein C increases chemokine-mediated leukocyte migration. PLOS Pathogens, 2017; 13 (5): e1006346 DOI: 10.1371/journal.ppat.1006346
The following two tabs change content below.
Anjali Nimesh
Anjali Nimesh Joined Medical Dialogue as Reporter in 2016. she covers all the medical specialty news in different medical categories. She also covers the Medical guidelines, Medical Journals, rare medical surgeries as well as all the updates in medical filed. She is a graduate from Dr. Bhimrao Ambedkar University. She can be contacted at editorial@medicaldialogues.in Contact no. 011-43720751
Latest posts by Anjali Nimesh (see all)