How a Nurse performs Self Thrombolysis in MI to save his life : NEJM case story
Heard of Self Thrombolysis? It is a new term coined to describe what a nurse did sensing that he was suffering from Myocardial Infarction (MI).It is a well-known fact that "Time is muscle" in reperfusion occluded coronary arteries in acute myocardial infarction.Current guidelines for the treatment of ST-segment elevation myocardial infarction recommend a door-to-balloon time of 90 minutes or less for patients undergoing primary percutaneous coronary intervention (PCI).Thrombolysis is the standard treatment for patients with ST-segment elevation myocardial infarction who are more than 120 minutes away from a hospital that is capable of performing the primary percutaneous coronary intervention.The male nurse belonged to the medical profession and was probably aware of this fact which prompted him to take this extreme but valiant step.Dr.Felicity Lee, MB, from the Sir Charles Gairdner Hospital in Nedlands, Western Australia, and colleagues, have reported this case through a letter to Editor which has been published in the New England Journal of Medicine (NEJM ).
A 44-year-old male nurse in Australia had symptoms of severe chest pain and dizziness while on duty at nursing in Coral Bay, Australia Unfortunately he was only nursing on duty at that time. There was no scope for receiving any medical assistance immediately as he was more than 150 km from the next nearest medical facility. As he was alone and no other medical personnel was available, the nurse performed his own electrocardiograms and emailed them to an emergency physician via the Emergency Telehealth Service (ETS).
According to the writers, the emergency physician who read the test relayed these results:
The first electrocardiogram showed complete heart block, right bundle-branch block, hyperacute T waves in the inferior leads, and reciprocal ST-segment depression in the anterolateral leads (
Figure A
). The second electrocardiogram obtained 50 minutes later, showed sinus tachycardia with 2 mm of inferior ST-segment elevation (
Figure B
).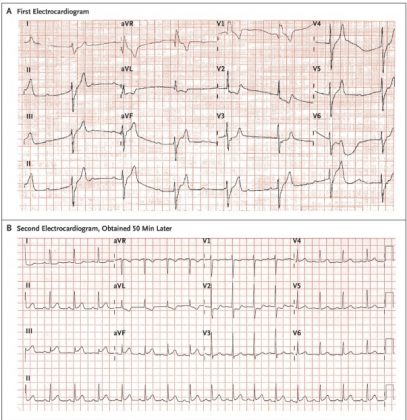 Image Source : NEJM
He took aspirin, clopidogrel, sublingual nitroglycerin, orally and self-administered intravenous heparin through cannulas which were also self-inserted in both antecubital fossae for intravenous access. After that preparation was made for thrombolysis with tenecteplase, with real-time video interaction with the ETS. He managed to thrombolysis himself after attaching his own defibrillator pads and preparing adrenaline, atropine, and amiodarone. There was the resolution of his ST-segment elevation and symptoms after thrombolysis as reported in second ECG.
Later on, he was transferred to a tertiary cardiology unit in Perth by the Royal Flying Doctor Service. Coronary angiography was performed on him the next day which showed that there was a severe stenosis in the mid-right coronary artery with blood flow of Thrombolysis in Myocardial Infarction grade 3 and mild left ventricular dysfunction. PCI was performed on him and a drug-eluting stent was inserted.He was discharged from hospital after home 48 hours with instructions to continue medical therapy.
This may have been medically a controversial decision taken by the patient in absence of other trained medical personnel to save his life.But this is certainly a win of tenacity over adversity.This is a success story of grit, determination and last but not the least teleconsultation
For more details click on the link: DOI: 10.1056/NEJMc1716701