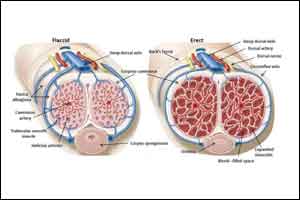 A new study finds that emergency units in U.K are under a mounting pressure from men with erections that will not go down- a condition called Priapism.
According to available statistics ,the number of admissions shot up to a record 346  last year  a 51 per cent rise on a decade earlier.
The possible cause of this according to experts is that more and more young men have got addicted to drugs such as  cocaine, crystal meth, cannabis.In addition to this if they take drugs like Viagra ,with the combination they may land up in hospital with problem of painful erections for hours.In such an eventuality the treating doctors may even need to drain their penises to stop scarring and impotence.
Dr Geoff Hackett, former chief of the British Society of Sexual Medicine,  said the condition called priapism often happened when fellas cannot rise to the occasion after booze and drugs, and then take Viagra.He said: "The risk as a result of Viagra alone is almost non–existent.But as the drug's become cheaper, there is a chance people are more likely to exceed the recommended dose."
Priapism most common in men in their 30s, is a prolonged , usually painful erection of the penis which may continue hours beyond or isn't caused by sexual stimulation. Although priapism is an uncommon condition overall, it occurs commonly in certain groups, which have  Blood-related diseases like Sickle cell anemia, Leukemia or Other hematologic dyscrasias, such as thalassemia and multiple myeloma when blood isn't able to flow out of the penis. It is a possible side effect of a number of drugs, including,Medications injected directly into the penis to treat erectile dysfunction such as alprostadil, papaverine etc,Antidepressants, such as fluoxetine ,Alpha blockers including prazosin etc.,Medications used  for psychotic disorders like  hydroxyzine, risperidone etc.Blood thinners, such as warfarin (Coumadin) and heparin,Hormones such as testosterone or gonadotropin-releasing hormone and Medications used to treat attention-deficit/hyperactivity disorder (ADHD), such as atomoxetine .The blood trapped in the penis is deprived of oxygen therefore  when an erection lasts for too long, this poorly oxygenated  blood  may damage or destroy tissues in the penis. As a result, untreated priapism can cause erectile dysfunction and  therefore doctors, often have to drain the penises to stop scarring and impotence
The following two tabs change content below.
Anjali Nimesh
Anjali Nimesh Joined Medical Dialogue as Reporter in 2016. she covers all the medical specialty news in different medical categories. She also covers the Medical guidelines, Medical Journals, rare medical surgeries as well as all the updates in medical filed. She is a graduate from Dr. Bhimrao Ambedkar University. She can be contacted at editorial@medicaldialogues.in Contact no. 011-43720751
Latest posts by Anjali Nimesh (see all)