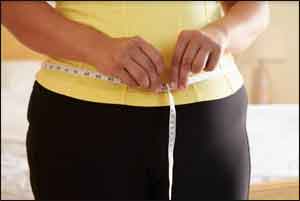 It is well  known that obesity raises the risk of heart attack in both men and women.But in a recent research  Dr.Sanne Peters of  George Institute for Global Health at the University of Oxford in the United Kingdom and associates have found that for women,Higher waist and hip measures enhance risk of MI.The researchers concluded that Waist-to-hip ratio had a stronger association with the risk for MI vs. BMI, especially in women.The findings of research have been published in  Journal of the American Heart Association.
Using the U.K. Biobank database, Peters and colleagues examined almost 500,000 people aged between 40 and 69, who were followed up for a period of 7 years.During this time, 5,710 cases of heart attack were recorded — 28 percent of which occurred in women.The team applied Cox regression models to calculate the risk of myocardial infarction associated with BMI, as well as "waist circumference, waist-to-hip ratio, and waist-to-height ratio."
The study endpoint of interest was fatal or nonfatal MI. Patients were followed up from baseline to March 1, 2016, or to first fatal or nonfatal MI for a median of 7.1 years.
This study suggests that the differences in the quantity and distribution of fat tissue not only results in differences in body shape between women and men, but may also have differential implications for the risk of heart attack in later life, researchers noted.
"Our findings support the notion that having proportionally more fat around the abdomen (a characteristic of the apple shape) appears to be more hazardous than more visceral fat which is generally stored around the hips (i.e., the pear shape)," said lead author Sanne Peters, Ph.D., Research Fellow in Epidemiology at the George Institute for Global Health at the University of Oxford in the United Kingdom.
Additional research on sex differences in obesity may yield insights into the biological mechanisms and could inform sex-specific interventions to treat and halt the obesity epidemic.
According to statistics in the AHA's 2018 Statistical Update, 40 percent of American women age 20 and older and 35 percent of men were considered obese in 2013-14 national surveys. Being obese puts you at a higher risk for health problems such as heart disease, stroke, high blood pressure, diabetes and certain cancers.
For more details click on the given link: http://dx.doi.org/10.1161/JAHA.117.008507