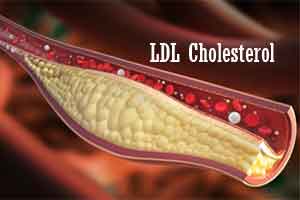 In a Meta-analysis, the researchers have found that Higher is the baseline LDL cholesterol levels, greater are mortality benefits of Aggressive Therapy. The risk of all-cause and cardiovascular mortality is considerably reduced with Intensive LDL cholesterol-lowering therapy as compared with less intensive therapy butt the mortality benefit varies by baseline LDL cholesterol levels. The results appear in the Journal of the American Medical Association.
The researchers included  34 randomized clinical trials of statins, ezetimibe, and the PCSK9 inhibitors alirocumab and evolocumab. Of these, eight studies were primary-prevention trials, 16 were performed in secondary prevention, and 10 included both primary- and secondary-prevention patients.
The important studies included in meta-analysis were  the 4S, WOSCOPS trials, FOURIER,  IMPROVE-IT , SPIRE-1/SPIRE-2  and several older trials testing intensive statin therapy, such as PROVE-IT, TNT, IDEAL, and SEARCH.
In the meta-analysis, 136,299 patients received more intensive LDL cholesterol-lowering therapy and 133,989 received less intensive treatment. The researchers found that
All-cause mortality (more vs less intensive LDL-c lowering therapy):

7.08% vs 7.70%; rate ratio (RR), 0.92; 95% CI, 0.88-0.96;
Change in RR's with 40 mg/dL LDL-c levels increase at baseline (0.91; P=.001);
Absolute risk difference, −1.05 incident cases/1000 person-years.

The association was significant only when the baseline LDL-c levels were ≥100 mg/dL (P<.001).
The greatest reduction in all-cause mortality was noted with ≥160 mg/dL LDL-c levels.
Cardiovascular mortality (more vs less intensive therapy):

3.48% vs 4.07%; RR, 0.84;
The researchers concluded that more intensive compared with less intensive low-density lipoprotein cholesterol (LDL-c) lowering is linked to a greater reduction in mortality risks. The greatest benefit from LDL-c lowering was seen with higher baseline LDL-c levels. The greatest mortality benefit with intensive therapy was only observed amongst patients with baseline LDL cholesterol levels 100 mg/dL or greater, suggesting the biggest benefit of adding ezetimibe or one of the two commercially available PCSK9 inhibitors may be in those with higher LDL cholesterol levels.
For further reference log on to: doi:10.1001/jama.2018.2525