................................ Advertisement ................................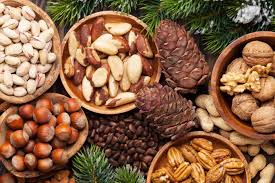 Higher nut consumption lowers risk of Cardiovascular disease, CVD incidence including heart attack and mortality in diabetes patients.The patients of diabetes have high predilection of Cardiovascular diseases CVD , including heart attack and are at increased risk of death.The findings have been published in the journal, Circulation Research .
Based on these findings, the inclusion of nuts into healthy dietary patterns was supported for the prevention of CVD-related complications and premature deaths among diabetics.
Dr Kamal Kant Kohli-MBBS, DTCD- a chest specialist with more than 30 years of practice and a flair for writing clinical articles, Dr Kamal Kant Kohli joined Medical Dialogues as an Editor-in-Chief for the Speciality Medical Dialogues section. Besides writing articles, as an editor, he proofreads and verifies all the medical content published on Medical Dialogues including those coming from journals, studies,medical conferences,guidelines etc.
Before Joining Medical Dialogues, he has served at important positions in the medical industry in India including as the Hony. Secretary of the Delhi Medical Association as well as the chairman of Anti-Quackery Committee in Delhi and worked with other Medical Councils in India. Email: editorial@medicaldialogues.in. Contact no. 011-43720751
To know about our editorial team click here