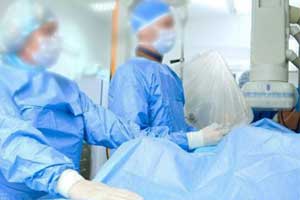 Higher maximal activated clotting time (ACT) is associated with a greater risk of major bleeding after transfemoral (TF) percutaneous coronary intervention (PCI) than after transradial (TR) PCI, according to a study published in June in the journal JACC: Cardiovascular Interventions.
David Louis, Brown University in Providence, Rhode Island, and colleagues conducted the study to determine whether higher maximal ACT during TR PCI is associated with greater bleeding risk.
Bleeding complications following percutaneous coronary interventions (PCI) have been closely associated with morbidity and mortality. Higher maximal ACT during transfemoral (TF) PCI has been associated with a greater bleeding risk. It is unclear whether this relationship exists in the setting of TR PCI.
Radial access for percutaneous coronary intervention has been adopted by many interventional cardiologists as an alternative vascular access site. Previous studies have demonstrated the reduced length of stay (LOS), fewer access site complications, improved quality of life and patient satisfaction, and earlier ambulation for TR PCI when compared to TF PCI. However, these clinical benefits for TRI occur at the cost of increased access site crossover and reduced procedural success potentially resulting in increased resource utilization.
Read Also: Role of PCI in treatment of chronic coronary syndromes (CCS)– EuroPCR 2018
For the study, the researchers related maximal ACT to the risk of major bleeding in 14,634 patients undergoing TR or TF PCI with unfractionated heparin monotherapy. They also performed secondary analyses to relate maximal ACT to composites of in-hospital death, myocardial infarction, or stroke and in-hospital death, myocardial infarction, or urgent target vessel revascularization.
Key Findings:
More major bleeding occurred at ACT > 290 versus ≤ 290 seconds after TF PCI (7.7 versus 5.8 percent) but not TR PCI (1.7 versus 2.4 percent).
The findings for major bleeding risk remained significantly higher at ACT > 290 versus ≤ 290 seconds among TF  but not TR PCI after adjustment.
There was no association between maximal ACT and incidence of the composite outcomes after TF or TR PCI.
For further reference log on to  10.1016/j.jcin.2018.01.257