Higher belly fat in children linked to osteoporosis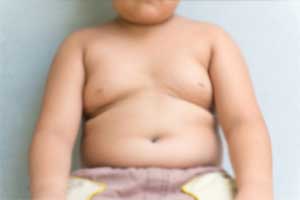 USA: Belly fat in children is associated with lower areal bone mineral density (aBMD) Z-scores and increased risk of osteoporosis, according to a new study.
The cross-sectional study, published in the journal Bone finds that central adiposity is associated with a lower aBMD Z-score only in children with the highest levels of abdominal fat. The finding indicates that a threshold value above which central adipose tissue adversely impacts bone by becoming more metabolically active.
Higher levels of muscle mass are associated with higher Bone mineral density,BMD in children, but the relationship between fat mass and BMD is less clear.
Lisa B.Rokoff, Harvard Medical School and Harvard Pilgrim Health Care Institute, Boston, MA, USA, and colleagues performed a cross-sectional study among 876 Boston-area children, to evaluate associations of components of total fat mass (truncal and non-truncal fat), overall body mass, and components of overall body mass (fat-free and total fat), measured via dual-energy X-ray absorptiometry (DXA) and anthropometry, with total body less head aBMD Z-score in mid-childhood.
Also Read: Belly fat linked to higher risk of vitamin D deficiency
Key Findings:


When fat-free mass was held constant, greater total fat mass was associated with higher aBMD Z-scores in children below the 85th percentile of fat mass, but in children above the 85th percentile of fat mass, greater fat mass was associated with lower aBMD Z-scores.


This association between greater fat mass and lower aBMD

Z-scores in children with the most adiposity appeared to be driven by greater abdominal fat rather than by fat depots elsewhere.



The overall associations were similar when stratified by child race/ethnicity, but the threshold above which the negative association between fat mass and aBMD Z-scores emerged occurred at a lower fat mass in black children (70th percentile) than for white children (85th percentile) or for children of other races/ethnicities (90th percentile).


Also Read: Burning bone fat through exercise key to better bone health
Overall, children with greater overall body mass and higher fat-free mass had higher aBMD Z-scores than did children with lower overall body mass and fat-free mass.
Our findings suggest that as early as childhood, excess abdominal adiposity may negatively influence bone health," write the authors, adding that, "Excess abdominal obesity, already known to be associated with adverse cardiometabolic health in childhood, may also be a risk factor for low BMD."
For further reference log on to
https://doi.org/10.1016/j.bone.2018.12.009
Source : With inputs from Bone