High Stress levels in Govt Hospitals Ward Nurses :PGIMER Study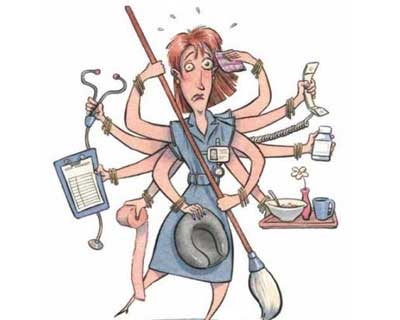 Stress levels of nurses working in the Intensive Care Units (ICU) and the General Wards of tertiary care facilities range from moderate to high, says a study by post graduate Institute of Medical Education and Research. The survey cites moderate stress levels among nurses in the ICU's (57%) and high levels of stress among those on duty in the general wards (54.5)
These stress findings have appeared in the institute's study titled, "Stress, stress reactions, jobs stressors coping among nurses working in ICU and general wards of a tertiary care hospital: A comparative study". The study has been published in the latest issue of the institute's journal.
Highlighting reasons of stress among the two category of nurses, the study states ,"The ICU nurses who are designated as Sister grade II are young, single, and have no children and walked to their workplace experienced more stress than their counterparts in wards."
Pointing at workload, role ambiguity and lesser social support being accountable for significant stress levels among nurses working in both the units, the study also reveals that external factors such as physical environment and resources have no role in contributing to their stress degrees .
Elaborating further, the study also points out at exhaustion being the main form of stress among the ICU nurses(11.9 per cent); while, irritation (11.9 per cent) and reduced self confidence (0.9 per cent) are also the kinds of stress eruptions that these nurses are confronted with in their day to day work environment; unlike the ones working in the general wards.
To resolve stressful working conditions the study states that the ICU nurses speak about how that they use distraction, positive coping, problem solving, religious strategies to relieve themselves, reports the
Indian Express
.
Highlighting the limitations of the study the authors say they did not incorporate personal traits of nurses to understand the impact of stress on them; further adding that they also did not consider the environmental factors ,different managerial styles and the various types of technologies operating in two the units, while making their assessments. However, they reiterate that the study does provide a complete picture of the stress, stress reactions, and job stressors operating in the two different units.
The study covers 258 nurses, of which 176 were working in general wards and 109 in ICUs. Both male and female wards of the medical and surgical units have been covered in the study. These units admit patients suffering from conditions such as diabetes mellitus, liver diseases. The ICU units included in the study are the coronary car (CCU), respiratory,ICU and liver
The report also admits that nurses, "working on earned leave, maternity leave, ex-India leave, child care leave or absent from the unit and those not consenting to participate in the survey were excluded from the study."
The various tools used in the study include data collection, demographic profile sheets, modified workplace stress scales, modified work stress symptom scales and copy checklist
The authors of the study are recommending that managers initiate stress management strategies based on the findings of the study for nurses. "It should include improving nurse-patient ratio, recruiting more nurses, clearly defined goals and objectives, provisions and opportunities for professional growth and organizing of recreational activities for the nurses; apart from adequate supply of physical resources required for patient care," reads the report.
Source : with inputs