High Meat intake increases risk of development of fatty liver disease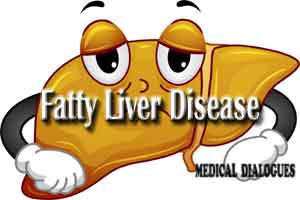 High animal protein intake is independently associated with increased risk of nonalcoholic fatty liver disease (NAFLD) in overweight, predominantly elderly people, according to a study published in the journal Gut. However, contrary to previous literature, the results do not support a harmful association of monosaccharides and disaccharides with NAFLD.
Louise JM Alferink and associates conducted a study to determine whether dietary macronutrient composition is associated with nonalcoholic fatty liver disease NAFLD.
The study included the participants who were assessed on the average intake of macronutrients (protein, carbohydrate, fat, fiber) using a Food Frequency Questionnaire and NAFLD presence using ultrasonography, in absence of excessive alcohol, steatogenic drugs, and viral hepatitis. Moreover, analyses were adjusted for and stratified by body mass index (BMI) (25 kg/m2).
The new research supports current evidence on the importance of dietary composition in NAFLD independent of caloric intake and may lead to more specific dietary recommendations for the prevention and management of NAFLD, the investigators said.
Read Also: Empagliflozin may help in treating Nonalcoholic Fatty Liver Disease : E-LIFT Trial
Key study findings:


NAFLD was present in 1337 (34%) participants of whom 132 were lean and 1205 overweight.


Total protein was associated with overweight NAFLD after adjustment for sociodemographic and lifestyle covariates.


This association was driven by animal protein. After adjustment for metabolic covariates, only animal protein remained associated with overweight NAFLD.


Monosaccharides and disaccharides were associated with lower overall NAFLD prevalence but this effect diminished after adjustment for metabolic covariates and BMI.


No consistent associations were observed for fat subtypes or fiber. There were no substitution effects.


The overall median body-mass index (BMI) was 26.9, compared with 29.3 in those with NAFLD; 90.1% in this group were overweight versus 59.1% in those without NAFLD


Metabolic syndrome was present in 73% of participants with NAFLD versus 40.8% in those without, and 23.7% versus 7.5% had diabetes mellitus.


The authors hypothesized that nitrate, nitrite, heme iron, and their byproducts in both unprocessed and processed meats could act as mediators between intake and cardiovascular and metabolic homeostasis. Heme iron has been associated with increased oxidative stress and insulin resistance, while nitrate and nitrite have been linked to endothelial dysfunction and insulin resistance. Previous studies have found that nitrate, nitrite, and heme iron from red meat as well as saturated fat was associated with a higher risk of developing the chronic liver disease.
Another possible mechanism is low-grade metabolic acidosis induced by an animal-protein acid load. The high acid load might suppress growth hormone secretion and subsequent insulin-like growth factor-1 response, both associated with NAFLD.
The study concluded that the results showed high animal protein intake is associated with NAFLD in overweight, predominantly elderly people, independently of well-known risk factors.
For reference log on to http://dx.doi.org/10.1136/gutjnl-2017-315940
Source : With inputs from the journal GUT