High levels of vitamin D decrease Breast cancer risk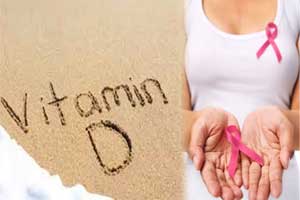 Higher levels of vitamin D may decrease your risk of breast cancer, suggests a new epidemiological study published in the journal PLOS ONE. The participants of the study consisted of women aged 55 or older.
The study was conducted by Sharon L. McDonnell, an epidemiologist for GrassrootsHealth, Encinitas, California, U.S., and colleagues to investigate the relationship between serum 25-hydroxyvitamin D [25(OH)D] concentration and breast cancer risk across a broad range of 25(OH)D concentrations among women aged 55 years and older.
Breast cancer is the most common non-skin cancer in women. While more early detection and improvements in treatment have reduced the mortality rate, there has been no reduction its incidence of in the past 20 years. Identifying and implementing effective primary prevention strategies could reduce breast cancer incidence rates.
For the study, the scientists pooled data from two randomized clinical trials with 3,325 combined participants and a prospective study involving 1,713 participants. All women were age 55 or older. The average age was 63. Data were collected between 2002 and 2017. Participants were free of cancer at enrollment and were followed for a mean period of four years. Vitamin D levels in blood were measured during study visits.
Over the course of the combined studies, 77 new cases of breast cancer were diagnosed for an age-adjusted incidence rate of 512 cases per 100,000 person-years.
Key Findings:


The minimum healthy level of 25(OH)D in blood plasma was found to be 60 nanograms per milliliter.


The women with 25(OH)D concentrations ≥60 ng/ml had an 80% lower risk of breast cancer than women with concentrations <20 ng/ml, adjusting for age, BMI, smoking status, calcium supplement intake, and study of origin.


Risk of cancer appeared to decline with greater levels of serum vitamin D.


"This study was limited to postmenopausal breast cancer. Further research is needed on whether high 25(OH)D levels might prevent premenopausal breast cancer," said principal investigator Cedric F. Garland, adjunct professor in the UC San Diego Department of Family Medicine and Public Health. The population was also mainly white women so further research is needed on other ethnic groups.
"Nonetheless, this paper reports the strongest association yet between serum vitamin D and reduction in risk of breast cancer," Garland said.
To reach 25(OH)D levels of 60 ng/ml, said Garland, would generally require dietary supplements of 4,000 to 6,000 international units (IU) per day, less with the addition of moderate daily sun exposure wearing very minimal clothing. He said the success of oral supplementation should be determined using a blood test, preferably during winter months.
"Higher 25(OH)D concentrations were associated with a dose-response decrease in breast cancer risk with concentrations of ≥60 ng/ml being most protective," concluded the authors.
For further reference click on the link: https://doi.org/10.1371/journal.pone.0199265