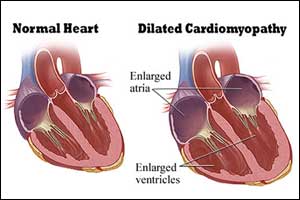 Withdrawal of heart failure medications for patients with dilated cardiomyopathy (DCM) who have had their symptoms and heart function resolve on medication might result in a relapse of the disease, according to results from TRED-HF trial.
The open-label, randomized, pilot trial was presented at the American Heart Association 2018 Scientific Sessions and simultaneously published in the Lancet.
Patients with dilated cardiomyopathy whose symptoms and cardiac function have recovered often ask whether their medications can be stopped. The safety of withdrawing treatment in this situation was unknown. Brian Halliday, National Heart and Lung Institute, Imperial College London, London, UK, and colleagues conducted the study to determine the safety of this withdrawing treatment.
TRED-HF recruited patients from a network of hospitals in England, with enrollment at a single London center. To be included in the study, patients had to have had a prior diagnosis of DCM with a dilated LV and a left ventricular ejection fraction (LVEF) < 40% at the time of diagnosis. Subsequently, however, patients need to have increased LVEF to above 50% and have normal left ventricular end-diastolic volume (LVEDV)—both as measured on cardiac magnetic resonance (CMR) imaging—as well as N-terminal pro-B-type natriuretic peptide (NT-proBNP) < 250 ng/L, and to be in NYHA class I.
After screening, patients were randomized to continued care or a structured program of medication reduction and stoppage starting with loop diuretics, then progressing to mineralocorticoid receptor antagonists (MRAs), beta-blockers, and finally ACE inhibitors and ARBs over a 16-week period, with clinic reviews every 4 weeks. At 16 weeks and 6 months, patients had their NT-proBNP measured and underwent CMR. The primary endpoint was relapse of DCM defined as any one of the following:
Reduction in LVEF by > 10% and below 50%
Increase in LVEDV by > 10% and to above the normal range
Two-fold increase in NT-proBNP and to > 400 ng/L
Clinical evidence of heart failure
After the 3-month follow-up, patients in the control group crossed over to therapy withdrawal. A total of 51 patients were ultimately randomized to withdrawal or control. One patient dropped out before completing the protocol.
Key Findings:
Over the first 6 months, 11 (44%) patients randomly assigned to treatment withdrawal met the primary endpoint of relapse compared with none of those assigned to continue treatment (Kaplan-Meier estimate of event rate 45·7%).
After 6 months, 25 (96%) of 26 patients assigned initially to continue treatment attempted its withdrawal.
During the following 6 months, nine patients met the primary endpoint of relapse (Kaplan-Meier estimate of event rate 36·0%.
No deaths were reported in either group and three serious adverse events were reported in the treatment withdrawal group: hospital admissions for non-cardiac chest pain, sepsis, and an elective procedure.
"Many patients deemed to have recovered from dilated cardiomyopathy will relapse following treatment withdrawal. Until robust predictors of relapse are defined, treatment should continue indefinitely," concluded the authors.

For further reference follow the link: https://doi.org/10.1016/S0140-6736(18)32484-X