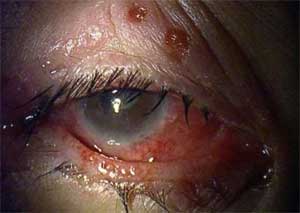 A 3-year-old female child with the history of atopic dermatitis presented with confluent vesicular and shallow ulcers pruritic rash surrounded by an erythematous base located to both hands and wrists, with 1-week evolution. She had no fever or other symptoms. There was no personal or family history of herpetic infections. Topical antibiotic, topical corticosteroid, and oral antihistaminic were tried with no improvement. Physical examination was unremarkable except for generalized dry skin and lesions.
On suspicion of superinfected viral rash or bullous impetigo, she was treated with oral amoxicillin and clavulanic acid (concentration of 250 mg/62.5 mg with the dose of 50 mg/kg/day) and topical fusidic acid. One week later, at re-evaluation, there was a progression of the rash and the mother reported herpes labialis on the father. At this time, the diagnosis of primary eczema herpetic infection was also considered.
Oral acyclovir (20 mg/kg every 6 hours for 5 days) and cefuroxime (30 mg/kg every 12 hours for 7 days) were started, with complete resolution of the lesions after 10 days. PCR assay of lesion's swab was positive for herpes simplex virus (HSV) type 1 and bacterial culture was negative…
For more details click on the link : doi:10.1136/bcr-2018-224967
The following two tabs change content below.
Anjali Nimesh
Anjali Nimesh Joined Medical Dialogue as Reporter in 2016. she covers all the medical specialty news in different medical categories. She also covers the Medical guidelines, Medical Journals, rare medical surgeries as well as all the updates in medical filed. She is a graduate from Dr. Bhimrao Ambedkar University. She can be contacted at editorial@medicaldialogues.in Contact no. 011-43720751
Latest posts by Anjali Nimesh (see all)