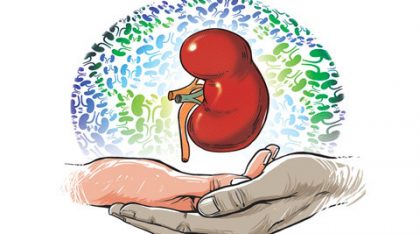 Kidneys from hepatitis C virus (HCV)-infected donors may be a valuable resource for kidney transplants, finds a new study published in the Annals of Internal Medicine. So, dialysis patients waiting for kidney transplants might safely accept an organ from a donor infected with HCV.
Organs from hepatitis C virus (HCV)–infected deceased donors are often discarded. Preliminary data from 2 small trials, including THINKER-1 (Transplanting Hepatitis C kidneys Into Negative KidnEy Recipients), suggested that HCV-infected kidneys could be safely transplanted into HCV-negative patients. However, intermediate-term data on quality of life and renal function are needed to counsel patients about risk.
Peter P. Reese, associate professor of medicine at the University of Pennsylvania School of Medicine in Philadelphia, and colleagues conducted the study to describe 12-month HCV treatment outcomes, estimated glomerular filtration rate (eGFR), and quality of life for the 10 kidney recipients in THINKER-1 and 6-month data on 10 additional recipients.
Using hepatitis C-infected kidneys would expand the organ pool and save lives, said Dr. Reese.
Also Read: Eight specific recommendations for management of hepatitis C in pregnancy
"There is a tremendous lack of kidneys for transplant," he explained. "Because of the opioid crisis, there are many people who die from a drug overdose and have HCV and want to donate their organs. But these infected kidneys are discarded, even though they are otherwise healthy. And many are from younger people."
New, less toxic treatments for hepatitis C opened the door for transplanting infected kidneys and then successfully treating the infection, Reese said.
In a study of 20 uninfected patients, researchers found that transplanting infected kidneys and then treating recipients for HCV resulted in a 100 percent cure rate. Half were evaluated six months after their transplant and the others a year after.
"And we found that these kidney transplants were working as well as kidney transplants from uninfected patients," Reese said.
Though some patients might not want to take the risk associated with an infected kidney, others might consider it a good option, given the high death rates for dialysis patients awaiting transplants, the researchers suggested.
For more information log on to 10.7326/M18-0749