Hemoglobin of 12 is not normal, should be 15 in women, diseased and elderly- Dr Yash Paul Sharma, HOD Cardiology, PGI Chandigarh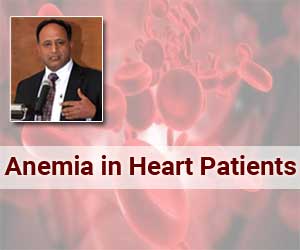 New Delhi: "Hemoglobin of 12 is not normal, it should be 15 in diseased and elderly" said country's one of the leading cardiologist Dr Yash Paul Sharma Professor and Head of the Department of Cardiology PGIMER Chandigarh while addressing the doctors present at a seminar on the role of anemia in heart patients organized by the Indian Medical Association on 17 July 2019. Dr. Yash Paul Sharma was the chief discussant of the seminar.
The workshop pointed out that hemoglobin deficiency manifested by the diseased state of anemia is a very common occurrence in the general population and heart patients in particular.
Hemoglobin deficiency results in a chronic deficiency of oxygen to all the organs of the body which leads to overworking of the heart and eventually results in excessive load on the vital body organs.
Anemia is most commonly caused by the lack of iron in the diet and sometimes by excessive blood loss which is predominantly observed in women during menstruation which creates an indirect negative impact on the existing heart disease.
Dr Yash Paul Sharma informed that PGI Chandigarh has done extensive research on this important aspect of the exasperation of the existing disease of anemia. Dr Yash Paul Sharma said, " Normal hemoglobin of any male is recommended to be 14-16 g/dl and for females, it is 13-14 g/dl but unfortunately, on an average Indian population has a hemoglobin of 9-11 which is lying much below the recommended level."
The low hemoglobin destabilizes the stable coronary artery disease, increases the impact of valvular heart disease, increases chances of heart failure and fastens the process of death. However, all these negative impacts can be corrected by a simple administration of iron carboxymaltose that has the potential to convert a serious manifestation of the disease to mild to moderate form.
Dr Prem Aggarwal, President, Delhi Medical Association and director of Sanjeevan Hospital who was presiding the seminar said that " Hemoglobin of 12 is not normal, it is the average of a normal human population actually. In a diseased state, we need high-quality oxygen-carrying capacity and for that hemoglobin of 15 is ideal."
Dr G.S Garewal, President Elder Society said that "anybody over the age of 60 and the women of any ages must have a hemoglobin of 15 to fight the impact of the disease."