................................ Advertisement ................................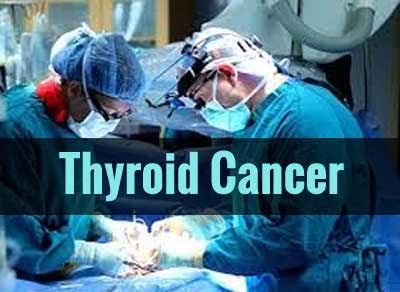 A vast majority of patients undergo total thyroidectomy or complete removal of the thyroid gland for the treatment of thyroid cancer rather than less invasive hemithyroidectomy involving removal of half of the gland. However, since 2015 the number of patients undergoing a hemithyroidectomy has increased significantly among a large group of hospitals participating in the American College of Surgeons National Surgical Quality Improvement Program (ACS NSQIP).
This shift to less invasive surgical treatment is most likely due in part to a leading medical society in the field revising its clinical guidelines that elevated hemithyroidectomy to an equal status with complete removal of the gland, according to study results presented at the American College of Surgeons Clinical Congress 2018.
Also Read: Thyroid cancer survivors at higher risk of developing CVD
................................ Advertisement ................................
Key Findings of the Study:
................................ Advertisement ................................
Before the American Thyroid Association (ATA) adopted its new guidelines in 2015, 15.6 percent of patients with thyroid cancer underwent a hemithyroidectomy.
In the year after the new ATA guidelines were released, that rate had increased to 18.3 per cent.
following the publication of the guidelines, the growth in the percentage of patients treated with hemithyroidectomy among participating surgeons increased more than sevenfold, from 0.12 to 0.87 per cent per quarter year.
Additionally, hemithyroidectomy patients were more likely to have an outpatient procedure (69.9 vs. 52.9 percent, p<0.001), spend less time in the hospital (zero to one day vs. one day, p<0.001), and have half the risk of superficial surgical site infections (0.2 vs. 0.4 percent, p<0.001) and unplanned breathing tube reinsertions (0.2 vs. 0.5 per cent, p<0.001).
Also Read: US task force recommends against thyroid cancer screening
The trend could be significant for improving outcomes and reducing costs of care for people with thyroid cancer. "Hemithyroidectomy has several known advantages for patients over total thyroidectomy," said Timothy M. Ullmann, MD, a general surgery resident at Weill Cornell Medical College, New York-Presbyterian Hospital in New York.  "First, since about half of the thyroid gland is left in place, about one-third of patients treated with hemithyroidectomy will have enough thyroid 'left over' after the operation and will not need to take daily thyroid hormone supplement pills."
Second, the less aggressive nature of hemithyroidectomy means less trauma to surrounding anatomy. "There are many structures in the neck that are near the thyroid gland, including the parathyroid glands (which control calcium levels in the blood) and the nerves controlling the vocal cords," Dr. Ullmann explained.  "These structures are behind both sides, or lobes, of the thyroid gland and can be injured during a thyroid procedure.  However, since patients undergoing hemithyroidectomy only have the operation performed on one side of the neck, it is not possible to injure all the parathyroid glands or the nerves on both sides, and, thus, the complication risk is much lower."
In a separate analysis, the researchers found that the rates of patients who had hemithyroidectomy and then needed a second operation for removing the remaining half of the thyroid gland, known as a completion thyroidectomy, were no different before and after the revised guidelines.
................................ Advertisement ................................
"Completion thyroidectomy is done to enable treatment with radioactive iodine and reduce the risk of cancer recurrence in patients with aggressive or advanced-staged cancers," Dr. Ullmann said.  "If these patients had more aggressive or later-stage cancers, or if they had more cancers that were  found incidentally (and surgeons did not feel they were adequately treated for their cancers with hemithyroidectomy alone), we would expect the completion thyroidectomy rate to increase."
The researchers surveyed 33,984 operations for thyroid cancer at member institutions entered into the ACS NSQIP database from 2009 to 2016.  Seventy-five percent of study patients were female.  NSQIP is a nationally validated, risk-adjusted, outcomes-based program to measure and improve the quality of surgical care in participating hospitals.
"We think that these results are important because this data suggests that surgeons at NSQIP hospitals are following the newest ATA guidelines," Dr. Ullmann said.  "However, we believe that a total thyroidectomy rate of over 80 percent in the fourth quarter of 2016 is still too high, and that many more patients can be safely treated with a hemithyroidectomy."
Dr. Ullmann said the hope is that the trend toward hemithyroidectomy continues and that more surgeons realize the procedure is a safe option for most patients with thyroid cancer. "Ultimately, our goal is to make surgeons more secure in the knowledge that their peers are also changing their practice patterns, so that they will be more encouraged to take the 'less is more' approach that the ATA recommends," he said.
Author Details
Medha Baranwal joined Medical Dialogues as an Editor in 2018 for Speciality Medical Dialogues. She covers several medical specialties including Cardiac Sciences, Dentistry, Diabetes and Endo, Diagnostics, ENT, Gastroenterology, Neurosciences, and Radiology. She has completed her Bachelors in Biomedical Sciences from DU and then pursued Masters in Biotechnology from Amity University. She has a working experience of 5 years in the field of medical research writing, scientific writing, content writing, and content management. She can be contacted at medha@medicaldialogues.in. Contact no. 011-43720751
To know about our editorial team click here
................................ Advertisement ................................