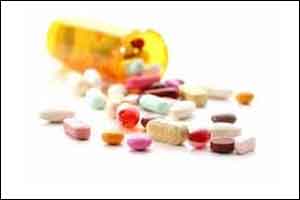 A team of Scientists in Cairns (Australia) and Cardiff (Wales) have developed the world's first synthetic, thermostable, the non-biologic vaccine that can be taken orally.The team showed that the synthetic vaccine was hyper-stable in both stomach acid and human blood, meaning it could be taken orally.This will be a revolutionary step towards creating new vaccine treatments in pill form.The most interesting aspect of this vaccine is that it does not require refrigeration , thereby obviating process of cold chain required for storage and transport of many current vaccines.This will not only be a matter of convenience but will also cut expenditure incurred for safe delivery of most of the present day vaccines.The findings of the study conducted by the team led by Associate Professor John Miles from James Cook University and Cardiff University's Professor Andrew Sewell has been published in the Journal of Clinical Investigation.
The new fully synthetic flu vaccine protected mice from potentially lethal doses of swine flu and also worked on human cells when tested in the laboratory.According to investigators this prototype synthetic vaccine would not require refrigeration and could have the long shelf life of few years.
The following two tabs change content below.
Dr. Kamal Kant Kohli
A Medical practitioner with a flair for writing medical articles, Dr Kamal Kant Kohli joined Medical Dialogues as an Editor-in-Chief for the Speciality Medical Dialogues. Before Joining Medical Dialogues, he has served as the Hony. Secretary of the Delhi Medical Association as well as the chairman of Anti-Quackery Committee in Delhi and worked with other Medical Councils of India. Email: drkohli@medicaldialogues.in. Contact no. 011-43720751
Latest posts by Dr. Kamal Kant Kohli (see all)