Heat Device Highly Effective for Hemorrhoid Relief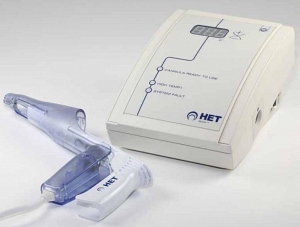 Hemorrhoids are vascular cushions in the anal canal. People are normally born with hemorrhoids, and the presence of hemorrhoids does not imply disease. However, hemorrhoids typically cause symptoms when they enlarge over time. There are two types of hemorrhoids- External Hemorrhoids and Internal Hemorrhoids.
Current minimally invasive technologies for the treatment of internal hemorrhoids are associated with several drawbacks that include high rate of recurrence and a need for repetitive procedures, frequent post-procedural pain or significant discomfort, intra-operative pain and technically demanding.
The HET™ bipolar system is a proprietary technology that allows for the gentle, simple, and effective1 treatment of all symptomatic grades I and II hemorrhoids in a single procedure.
The treatment targets the area above the dentate line, and its low treatment temperature minimizes collateral tissue damage.
Hemorrhoid energy therapy using the HET™ bipolar system is an efficient procedure with minimal pain to the patient.
The FDA approved the device, the HET Bipolar System (Medtronic), in 2012, based on submission of efficacy and safety data from clinical studies, but the investigators suggested that their experience represents a real-world analysis of treatment success.
"The treatment is well tolerated and easy to use, and the patient satisfaction is very high," said Adil Mir, MD, a staff gastroenterologist at Mercy Catholic Medical Center, in Philadelphia, who presented the data at the 2016 annual meeting of the American College of Gastroenterology (abstract P1657).
The HET system consists of lubricated bipolar forceps that clinicians insert into the rectum to reach the superior blood supply above the dentate line. At the target, the forceps are opened to trap tissue and deliver the thermal energy. Dr. Mir said bleeding following therapy is minimal.
In a review of an experience with 107 men and women—roughly two-thirds of whom had grade I lesions—who were treated and later interviewed by telephone about their experience, preprocedural symptoms improved or completely resolved in 83% of patients. The symptoms included bleeding in 77%, burning or itching in 58%, pain in 40% and rectal tissue prolapse in 28%. Ninety percent reported that they were satisfied with the treatment, according to Dr. Mir.
Immediately after treatment, 20% of patients reported bleeding and 6% reported pain. All complaints resolved within five days, Dr. Mir reported. After a median of 10 months of follow-up, 21% had recurrences of mild symptoms. Several of these patients underwent retreatment, and all achieved restoration of symptom control, according to Dr. Mir.
The HET™ bipolar system is inserted into the rectum and low power energy is delivered to the blood supply feeding enlarged hemorrhoids – not to hemorrhoid itself. This causes the blood volume to be reduced and hemorrhoid to shrink in size. The HET™ bipolar system offers consistent compression, low treatment temperatures and minimal discomfort to you. In one 23 patient study, 100% of patients surveyed reported no pain or discomfort from a treatment of internal hemorrhoids when the HET™ bipolar system was used.1 This efficient procedure can be done in conjunction with a diagnostic colonoscopy, reducing the number of procedures needed for you to return to regular daily life. The HET™ bipolar system can treat multiple symptomatic hemorrhoids in one procedure, compared to banding2 and infrared coagulation3, which often require multiple treatment sessions to resolve symptoms.