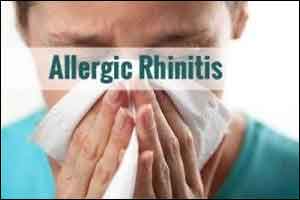 Hay fever has serious, far-reaching consequences, especially if sufferers are adolescents, says a study published in Annals of Allergy, Asthma and Immunology, the scientific journal of the American College of Allergy, Asthma and Immunology (ACAAI). Adolescents with hay fever have higher rates of anxiety and depression and a lower resistance to stress.
Allergic rhinitis (AR) commonly known as hay fever is a chronic inflammatory disorder of the nasal mucosa caused by immunoglobulin E (IgE)-mediated early- and late-phase hypersensitivity responses. AR symptoms include rhinorrhea, nasal obstruction and blockage, nasal itching, and repetitive sneezing. It is also often accompanied by allergic conjunctivitis (ARC) with symptoms that can include itchy, red, watery, and swollen eyes.
Michael S. Blaiss and his associates conducted a study to evaluate the literature regarding the burden of allergic rhinitis (AR) and allergic rhinoconjunctivitis (ARC) in adolescents aged 10-19 years.
The literature review was performed using various sources or studies evaluating concepts of symptoms, quality of life (QOL), daily activities, sleep, examination performance, school absenteeism and absenteeism, and treatment burden in adolescents with AR or ARC.
The study found that a total of 27 articles were identified; outcomes evaluated were: symptoms (n=6 studies), QOL (n=9), daily activities (n=5), emotional aspects (n=3), sleep (n=6), education (n=7), and treatment burden (n=2). AR symptoms rated most bothersome were rhinorrhea, nasal congestion, and itchy eyes. QOL was worse in adolescents with AR versus controls regardless of QOL instrument used. Nasal symptoms and nasal obstruction were more likely to be associated with poor QOL in adolescents than in adults or younger children, respectively. Daily functioning and sleep were also negatively impacted by AR. In addition, a detrimental effect on absenteeism, school productivity, and academic performance was reported.
Michael Blaiss, MD, ACAAI Executive Medical Director and study lead author said that the emotional burden of hay fever can be huge for adolescents. He added that three of the studies in our review examined how adolescents are emotionally affected by hay fever (allergic rhinitis) and hay fever with eye allergies (allergic rhinoconjunctivitis).
The study concluded that although AR and ARC are sometimes perceived as smaller conditions but the review indicates that their impact on adolescent life is negative and far-reaching. The study emphasizes that clinicians should take more care and understanding in treating AR and ARC in adolescents to ensure a better clinical and academic outcomes.
For more reference log on to: 10.1016/j.anai.2018.03.028