Haryana: 21kg tumour removed at Gurgaon Hospital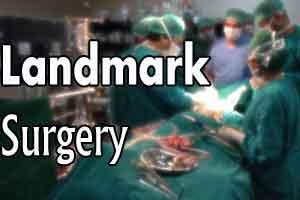 Gurgaon: A 61-year-old man was given a new lease of life after doctors at a city hospital here successfully removed a 21 kg cancerous tumour from his abdomen.
Ashish Khanna (name changed) was suffering from liposarcoma -- a cancer that arises in fat cells in deep soft tissue.
He had been operated upon twice. However, due to excessive blood loss during the surgery, the doctors said they were not able to complete the operation.
The patient could not walk or lie down due to the tumour.
The tumour also effected his large intestine, which led to profuse bleeding from the rectum.
A team of oncologists at Paras Hospitals advised immediate surgery.
"The tumour was removed, along with a part of the intestine. Biopsy reports revealed the tumour to be malignant in nature," said Vinay Samuel Gaikwad, Senior Consultant, (Surgical Oncology -- Gastrointestinal and Hepatopancreatobiliary Oncology), Paras Hospitals, in a statement.
The doctors also reconstructed a part of his large intestine that was removed during surgery.
"The patient is back on his feet though, and is leading a good quality of life," Gaikwad added.