Handheld, Wireless Ultrasound Device Now Available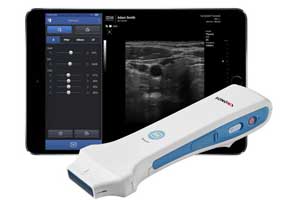 The U.S. Food and Drug Administration (FDA) has approved Healcerion's handheld ultrasound device, SONON 300L, for use by primary care providers (PCPs). The device is indicated for measurement of ultrasound echo imaging and human body analysis for general applications including lung, small parts (breast, thyroid), vascular and musculoskeletal imaging.
SONON 300L works in tandem with an app that displays the images for analysis on both tablets and smartphones. The device, which weighs just 13 ounces, has a rechargeable, lithium-ion-battery (3-hour continuous scanning battery life), WiFi connectivity and 3G/LTE cellular capability. It also supports medical imaging protocols including DICOM (Digital Imaging and Communications in Medicine) and PACS (Picture Archiving and Communication System).
Steps to Use SONON:


Download the Healcerion App


Connect to SONON: Connect to the App using SONON's wireless capabilities.


Ready to Scan: SONON offers DICOM compatibility and provides image sending directly to your PACS server


"It [SONON 300L] allows PCPs to be more efficient and effective with instant insight to diagnose or refer a patient to a specialist," said Healcerion founder and CEO, Dr. Benjamin Jeongwon Ryu, MD.
Read Also: Ultrasound helmet for ultrasound imaging of the brain
Features of SONON:


Compact Design: SONON fits right in your hand and easily in the pocket. At just over 300g SONON's portability allows you to scan anywhere.


Wireless Connectivity: It no cords or wires, making it easy to carry and connect to iOS and Android devices.


Compatible with PACS: By supporting DICOM, SONON is designed to store, manage and transfer images securely through PACS server.


Long Battery Endurance: SONON offers one of the longest scanning times among handheld ultrasound devices: it provides up to 3 hours of continuous scanning with up to 12 hours of standby mode.


The FDA approval for SONON 300L shows that app-based ultrasound is continuing to move forward. While it cannot yet replace conventional full-size ultrasound systems, it's important to remember that computers used to take up whole rooms too, but now smartphones are even more powerful than those behemoths once were.
The Company foresees the device also being used in retail clinics, urgent care centers, mini-hospitals, and in rural and third-world regions.
Source : press release