Guidelines to minimise infection risk with intrauterine device insertion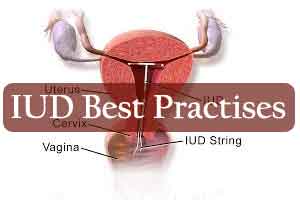 The most serious complication associated with IUDs is infection. Early analyses suggested that IUDs might cause pelvic inflammatory disease (PID). .Infections that are truly related to the IUD are a result of insertion; in other words, contamination of the uterine cavity with organisms from the vaginal flora occurs at the time the IUD is inserted. Still, this risk is minimal (0.97%) and is limited to the first 20 days after insertion.Antibiotic prophylaxis with doxycycline, 200mg administered orally 1 hour prior to insertion, has been evaluated and shown to be of no benefit .
In 2014,Caddy S, Yudin MH, Hakim J, Money DM, Infectious Disease Committee, Society of Obstetricians and Gynaecologists of Canada published, ' Best practices on how to minimize risk of infection with intrauterine device insertion.' The major recommendations of the best practises can be summarised as follows:-
Risk of Pelvic Inflammatory Disease (PID) After Insertion
Recommendation


All women requesting an intrauterine device (IUD) should be counselled about the small increased risk of PID in the first 20 days after insertion.


Role of and Indications for Screening for Sexually Transmitted Infections (STIs)
Recommendation


All women requesting an IUD should be screened by both history and physical examination for their risk of STI. Women at increased risk should be tested prior to or at the time of insertion; however, it is not necessary to delay insertion until results are returned.


Bacterial Vaginosis
Recommendation


Not enough current evidence is available to support routine screening for bacterial vaginosis at the time of insertion of an IUD in asymptomatic women.


Role of Prophylactic Antibiotics
Recommendation


Routine use of prophylactic antibiotics is not recommended prior to IUD insertion, although it may be used in certain high-risk situations.


Insertion Technique
Recommendation


Standard practice includes cleansing the cervix and sterilizing any instruments that will be used prior to and during insertion of an IUD.


Management of PID with IUD In Situ
Recommendation


In treating mild to moderate PID, it is not necessary to remove the IUD during treatment unless the patient requests removal or there is no clinical improvement after 72 hours of appropriate antibiotic treatment. In cases of severe PID, consideration can be given to removing the IUD after an appropriate antibiotic regimen has been started.


Special PopulationsHuman Immunodeficiency Virus (HIV)-Positive Women
Recommendation


An IUD is a safe, effective option for contraception in an HIV-positive woman.


Adolescents
Recommendation


An IUD can be considered a first-line contraceptive agent in adolescents.


To read further click on the following link:
http://www.ncbi.nlm.nih.gov/pubmed/24612897?dopt=Abstract