Guidelines-practice and performance of manipulation under anaesthesia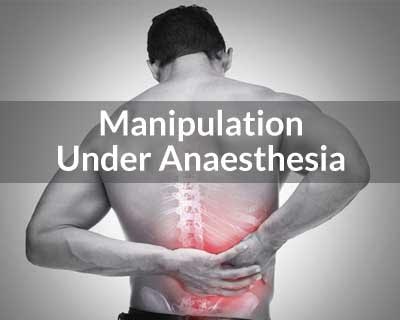 Manipulation under anaesthesia (MUA) is a non-invasive procedure increasingly offered for acute and chronic conditions, including:neck pain, back pain, joint pain, muscle spasm, shortened muscles, fibrous adhesions & long term pain syndromes. Manipulation under anaesthesia is generally considered safe and is utilized to treat pain arising from the cervical, thoracic and lumbar spine as well as the sacroiliac and pelvic regions. Manipulation under anaesthesia uses a combination of specific short-lever spinal manipulations, passive stretches and specific articular and postural kinaesthetic manoeuvres in order to break up fibrous adhesions and scar tissue around the spine and surrounding tissue.
In 2014, the Chiropractic and manual therapies Guideline-practice and performance of manipulation under anaesthesia was published.
Following are the major recommendations:
Protocols and Standards
Patient Selection: Clinical Candidacy for Manipulation Under Anaesthesia (MUA)
See the original guideline document for information about the factors that qualify a patient for clinical candidacy for MUA.
Diagnosis
Establishing Medical Necessity
Every condition treated must be diagnosed and justified by clinical documentation in order to establish medical necessity. Documentation of the patient's progress and the patient's response to treatment are combined to confirm the working diagnosis.
See the original guideline document for information about the diagnoses that are most responsive to MUA.
Frequency and Follow-up Procedures
Determining the Necessity and Frequency of MUA
The following should be considered when determining the necessity and frequency of MUA:


Patient's response and progress to previous conservative care


Consideration of activities of daily living and disability


Patient's psychological acceptance of the MUA procedure, and psychosomatic response to overcoming chronic pain and discomfort


Prevention of additional gross deterioration


Prevention of possible surgical intervention


Chronicity


Length of current treatment and patient progress


Patient's age


Number of previous injuries to the same area


Level of pain considering standard 4-8 week minimum protocol parameters and deciding whether a variation from the

guidelines

may be appropriate for the individual patient's needs


Patient's tolerance of previous treatment procedures and their success or failures


Muscle contraction level (beyond splinting)


Response to previous MUAs based on objective clinical documentation and protocols for determining patient progress


Fibrous adhesion from failed back surgery or prior injury


Patient willingness and availability to participate in appropriate post-procedures follow-up to optimize results


Protocols for Determining the Frequency of the MUA Procedure
A treatment plan of three consecutive days of treatment is recommended, on the rationale that serial procedures allow a gentler yet effective treatment plan with better control of bio mechanical force resulting in increased safety, and more focused and effective subsequent procedures after monitoring the effects of those administered previously.
Ranges of motion should always be measured after an appropriate warm-up period for consistency and as recommended within the American Medical Association Impairment Guidelines.


Single spinal MUA is most often recommended for younger patients; when the area to be treated has not been previously injured; and when the verifiable global and inter segmental motion restrictions are relatively mild.


Single spinal MUA is most often recommended when conservative care has been rendered for a sufficient time (usually a 4-6 week minimum) and the patient's activities of daily living or work activities are interrupted in such a fashion as to warrant a more aggressive approach.


If the patient is treated for intractable pain with a single MUA procedure and responds with 80% symptomatic and functional resolution, the necessity for future MUAs should be considered and depends in part on the objective parameters determined during and after the MUA procedures.


Serial MUA is recommended when the patient's condition is chronic and when conservative care as described in

this

guideline has been rendered.


Serial MUA is recommended when the injury is recurrent in nature and fibrotic tissue and articular fixation prevents a single MUA from being optimally effective.


Parameters for Determining MUA Progress
Parameters for determining MUA progress may include, but are not limited to:


Subjective changes


Patient's pain index, visual analogue scale, faces of pain


Patient's ability to engage in active range of motion


Patient's change in activities of daily living


Patient's change in job performance


Objective changes


Change in measurable muscle mass, function, and strength


Change in muscle contractibility


Change in electromyography and/or nerve conduction studies


Change in controlled measurable passive range of motion


Change in diagnostic studies (X-rays, computed tomography, magnetic resonance imaging), including functional radiography


General Post MUA Therapy
Therapy Following First MUA


Repeat MUA stretching


Physio therapeutic modalities as indicated by patient presentation


Patient to rest at home with walking and range of motion exercises encouraged to patient tolerance


Therapy Following Subsequent MUAs


Same as 1st day


No further manipulation should be required.


May add proprioceptive neuro facilitation protocols. These can be incorporated during stretching if tolerated.


Therapy Following Last MUA


Same protocol as above with proprioceptive neuro facilitation


Additional home instructions to include range of motion and strengthening exercises as condition permits and to patient tolerance can be provided to the patient at

this

time


Follow-up Therapy Following MUA—One Week after Last MUA
Treatment frequency during the first week should be 3-4 days dependent on the individual patient's needs. These follow-up procedures should include all fibrosis release and manipulative procedures performed during the MUA procedure to help prevent re-adhesion.
Follow-up Therapy Following MUA—Weeks 2 and 3 after Last MUA


Continue full protocols to include fibrosis release procedures, proprioceptive neuro facilitation, and manipulative procedures as needed to maintain global and inter segmental motion improvements obtained during the MUA procedure.


Begin home rehabilitation exercises 2-3 times per week.


Follow-up Therapy Following MUA—Weeks 7-8 after Last MUA


Continue full protocol (fibrosis release procedures, proprioceptive neuro facilitation and manipulative procedures).


Patient treated 1-2 times per week for 4-5

weeks

depending on patient needs.


Active progressive resistive strength/stabilization exercises, supervised/unsupervised 2-3 times per week; optimal rehabilitative procedures should include attention to aerobic, flexibility, strength, and coordination considerations.


To read further click on the following link:
http://www.ncbi.nlm.nih.gov/pmc/articles/PMC3917622/
Source : Chiropractic Forum