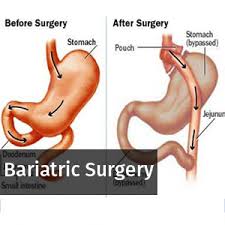 Bariatric surgery is today the most effective long-term therapy for the management of patients with severe obesity, and its use is recommended by the relevant guidelines of the management of obesity in adults. New guidelines have been released by  European Association for the Study of Obesity providing practical recommendations to help clinicians manage patients after bariatric surgery.The new recommendations have been published online in Obesity Facts. The guidelines encompasses various issues like nutrition, medical and psychological comorbidities, pregnancy, and weight regain after bariatric surgery.
Major Recommendations:
Patients need to develop new nutritional habits and eating behaviors, transitioning to eating smaller amounts of food as they adjust to living with a smaller-volume stomach.Therefore attending Doctors must advise patients about the optimum quantity and frequency of food intake and about the importance of consuming a healthy, nutrient-dense diet that contains adequate amounts of lean proteins, fruits, and vegetables.
Patients must be advised to eat sufficient protein (at least 60 g/day) to preserve muscle mass during weight loss.
The patients must be monitored for his nutritional blood parameters every 3 to 6 months during the first year after surgery, and every 12 months thereafter.
The patients must be advised about the need to also take supplementary forms of  nutrients like vitamins B and D, calcium, and iron in order to overcome any possible deficiency on account of Bariatric surgery.
The attending Physician must address psychiatric comorbidities, including suicidal ideation, substance abuse, or eating disorders which are common among these individuals after Bariatric surgery.
The attending Physician must perform postoperative psychological evaluations to monitor patients for mental health issues, including unrealistic expectations from surgery. He should also be imparted  education about the risk for alcohol abuse after surgery.
Importance of adopting and maintaining a healthy lifestyle and  regular physical activity  to prevent weight regain must be emphasized.
The guidelines recommend  Physician must educate women about increase in woman's fertility after surgery.The women  should be advised against becoming pregnant in the first 12 to 24 months after bariatric surgery as there is  an increased risk for nutritional deficiencies and obstetric complications during this period.
Women should be switched to non oral contraceptives after Bariatric surgery as efficacy of oral contraceptives is reduced after gastric bypass surgery.
Women becoming pregnant after Bariatric surgery should be prescribed a prenatal multivitamin preparation, vitamin B12 injections, and oral calcium supplements.
Pregnant women must be screened for gestational diabetes using serial capillary glucose monitoring instead of the conventional oral glucose tolerance test to avoid dumping syndrome and hypoglycemia.
Pregnant women must receive multidisciplinary antenatal care at a specialized center with experience in pregnancy after bariatric surgery.
 The guidelines recommend  Physician must routinely monitor patients' blood pressure, blood glucose levels and their lipid profiles and cardiovascular risk status in order to adjust medications according to new therapeutic needs.
It remains clear that referral to a bariatric multidisciplinary center, preferably the one performing the original procedure, should be considered in case of more complex clinical situations.
For further reference log on to :
https://www.karger.com/Article/FullText/442721