Guidelines for management of a Diabetic Foot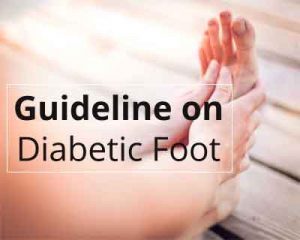 Guideline for Management of a Diabetic Foot were developed by Society for Vascular Surgery (SVS), American Podiatric Medical Association, Society for Vascular Medicine and were released in February 2016.
The prevalence of Peripheral artery disease (PAD) among patients with diabetes is between 10% and 40%, and the incidence is increasing worldwide. Concordantly, an increasing proportion of Diabetic Foot Ulcers have an ischemic component. Ischemic ulcers are associated with higher recurrence rates, higher amputation rates, and decreased levels of functional independence compared with neuropathic ulcers. The guidelines direct special attention to this trend by recommending regular assessment for PAD as a component of preventative diabetic foot care in conjunction with optimal glycemic control.
Major recommendations and ratings-
(1) Annual foot inspections by physicians or advanced practice clinicians with training in foot care and education of patients and their families about preventive foot care are recommended for patients with diabetes (grade 1C).
(2) Foot examinations in patients with diabetes should include testing for peripheral neuropathy using the Semmes-Weinstein test (grade 1B).
(3) Annual assessment is recommended of pedal perfusion by ankle-brachial index (ABI), ankle and pedal Doppler arterial waveforms, and either toe systolic pressure or transcutaneous oxygen pressure (TcPo2) for patients with a current diabetic foot ulcer (DFU) (grade 1B).
(4) Adequate glycemic control (hemoglobin A1C<7%) should be achieved to reduce DFUs and infections with subsequent risk of amputation (grade 2B).
(5) Revascularization by surgical bypass or endovascular therapy is recommended for patients with DFU and peripheral arterial disease (PAD) (grade 1B).
(6) Prophylactic arterial revascularization to prevent DFUs should not be done (grade 1C).
For more details click on the link:
doi:10.1001/jama.2017.11700