Guidelines for intraoperative care in cesarean delivery: Enhanced Recovery After Surgery Society Recommendations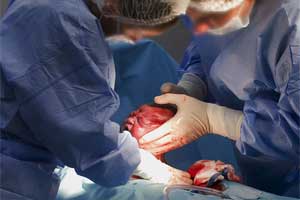 The intent is for this ERAS Society guideline for perioperative care in cesarean delivery to provide best practice recommendations for preoperative, intraoperative, and postoperative phases primarily. Although certain ERAS principles have been established for other abdominal/pelvic surgeries, these present ERAS cesarean delivery (ERAS CD) pathway will provide evidence-based recommendations for the surgical pathway related to cesarean delivery with primarily a maternal focus. The current document is the second in a series of 3 to focus on ERAS CD and is focused primarily on intraoperative care beginning 30–60 minutes before the procedure, with the first document focused on preoperative care and the third document focused on postoperative care. The "focused" pathway process for scheduled and unscheduled ERAS CD has been created for this ERAS CD guideline from "decision to operate (30 - 60 minutes before skin incision) to hospital discharge."
Ultimately, ERAS is a tool for process management that creates a focused care process. The tool should be used in a cycle of audit and feedback, whereby clinicians are provided with comparative data to educate, change, and decrease the "harmful" clinical variances that are identified in certain high-volume clinical care processes and procedures that will increase the quality of care, patient safety, and health outcomes.
1. Intraoperative pathway-focused: preoperative antimicrobial prophylaxis and skin preparation (focused elements)


Intravenous antibiotics should be administered routinely within 60 minutes before the cesarean delivery skin incision. In all women, a first-generation cephalosporin is recommended; in women in labor or with ruptured membranes, the addition of azithromycin confers an additional reduction in postoperative infections.


Chlorhexidine-alcohol is preferred to aqueous povidone-iodine solution for abdominal skin cleansing before cesarean delivery.


Vaginal preparation with a povidone-iodine solution should be considered for the reduction of infections after cesarean delivery.


2. Intraoperative pathway-focused


Pre- and intraoperative anesthetic management (focused element)









Regional anesthesia is the preferred method of anesthesia for cesarean delivery as part of an enhanced recovery protocol.









Prevention of intraoperative hypothermia (focused element)









Appropriate patient monitoring is needed to apply warming devices and avoid hypothermia.


Forced-air warming, intravenous fluid warming, and increasing operating room temperature are all recommended to prevent hypothermia during cesarean delivery.







3. Cesarean delivery surgical techniques/considerations (focused element)


Blunt expansion of a transverse uterine hysterotomy at time of cesarean delivery is recommended to reduce surgical blood loss.


Closure of the hysterotomy in 2 layers may be associated with a lower rate of uterine rupture


The peritoneum does not need to be closed because closure is not associated with improved outcomes and increases operative times


In women with ≥2 cm of subcutaneous tissue, reapproximation of that tissue layer should be performed


The skin closure should be closed with subcuticular suture in most cases, because of evidence of reduced wound separation in those women whose staples were removed ≤4 days postoperatively


4. Perioperative fluid management (focused element)


Perioperative and intraoperative euvolemia are important factors inpatient perioperative care and appear to lead to improved maternal and neonatal outcomes after cesarean delivery


5. Neonate pathway-focused: Immediate care of the newborn infant at delivery (focused element)


Delayed cord clamping for at least 1 minute at a term delivery is recommended.


Delayed cord clamping for at least 30 seconds at a preterm delivery is recommended


Body temperature should be measured and maintained between 36.5°C and 37.5°C after birth through admission and stabilization


Routine suctioning of the airway or gastric aspiration should be avoided and used only for symptoms of an obstructive airway (by secretions or meconium)


Routine neonatal supplementation with room air is recommended because the use of inspired air with oxygen may be associated with harm


In all settings that perform cesarean delivery, a capacity for immediate neonatal resuscitation is mandatory


For more details click on the link: DOI: https://doi.org/10.1016/j.ajog.2018.08.006