Guidelines 2016 for diabetic retinopathy by AAO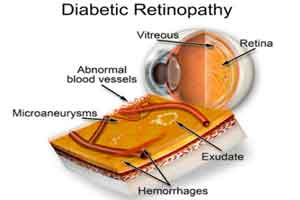 Diabetic Retinopathy can be considered as one of the most dreaded complications of Diabetes Mellitus. Large number of adults who develop blindness develop so as consequence of this complication, which is easily preventable if caught in time .
According to the World Health Organization, India will become one of the major hubs of diabetic population during the next 2 decades; the number of cases of adult-onset diabetes mellitus will grow to nearly 80 million in 2030 from 18 million in 1995. In such a scenario, it is important for both physicians as well as ophthalmologic specialists to equip themselves to deal with this major complication of diabetes.
Keeping this in mind, American Academy of Ophthalmology came out with the updated Diabetic Retinopathy Preferred Practise Pattern guidelines in the month of February 2016.
The major findings/recommendations of the guidelines touch upon the following issues:-


The prevalence of diabetes, both worldwide and in the United States, is increasing; as such, the prevalence of diabetic retinopathy and vision-threatening diabetic retinopathy (VTDR) is also expected to increase dramatically.


Currently, only about 60% of people with diabetes have yearly screenings for diabetic retinopathy.


People with Type 1 diabetes should have annual screenings for diabetic retinopathy beginning 5 years after the onset of their disease, whereas those with Type 2 diabetes should have a prompt examination at the time of diagnosis and at least yearly examinations thereafter.


Maintaining near-normal glucose levels and near-normal blood pressure lowers the risk of retinopathy developing and/or progressing, so patients should be informed of the importance of maintaining good glycosylated hemoglobin levels, serum lipids, and blood pressure.


Patients with diabetes may use aspirin for other medical indications without an adverse effect on their risk of diabetic retinopathy.


Women who develop gestational diabetes do not require an eye examination during pregnancy and do not appear to be at increased risk of developing diabetic retinopathy during pregnancy. However, patients with diabetes who become pregnant should be examined early in the course of the pregnancy.


Referral to an ophthalmologist is required when there is any nonproliferative diabetic retinopathy, proliferative retinopathy, or macular edema.


Ophthalmologists should communicate both ophthalmologic findings and level of retinopathy to the primary care physician. They should emphasize to the patient the need to adhere to the primary care physician's guidance to optimize metabolic control.


Intravitreal injections of anti-vascular endothelial growth factor (VEGF) agents have been shown to be an effective treatment for center-involving diabetic macular edema and also as an alternative therapy for proliferative diabetic retinopathy.


At this time, laser photocoagulation remains the preferred treatment for non-center-involving diabetic macular edema.


The guidelines in detail provide a number of recommendations for examination, testing, treatment, followup, care as well as use of different procedures in case of diabetic retinopathy.
You can read the full guidelines by clicking on the following link
http://www.aao.org/preferred-practice-pattern/diabetic-retinopathy-ppp-updated-2016
Source : AAO