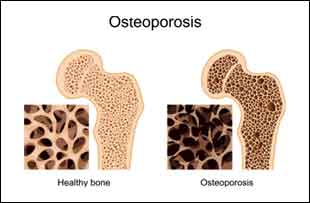 This guideline updates the 2008 American College of Physicians (ACP) recommendations on treatment of low bone density and osteoporosis to prevent fractures in men and women. This guideline is endorsed by the American Academy of Family Physicians.The ACP Clinical Guidelines Committee based these recommendations on a systematic review of randomized controlled trials; systematic reviews; large observational studies (for adverse events); and case reports (for rare events) that were published between 2 January 2005 and 3 June 2011.
Various important decisions for fracture prevention and decisions on whom to treat — and for how long — are not always straightforward. This guideline updates previous ACP recommendations for managing low bone density or osteoporosis to prevent fractures. Osteoporosis is defined as having sustained a fragility fracture or having a bone-mineral density (BMD) T-score ≤−2.5.
Key Recommendations
The authors make only two "strong" recommendations (based on high- or moderate-quality evidence):
Clinicians should offer a bisphosphonate (alendronate, risedronate, or zoledronic acid) or denosumab (Prolia) to women with known osteoporosis.
Clinicians should not prescribe postmenopausal estrogens or raloxifene to treat women with osteoporosis.
Four other recommendations are graded as "weak" (based on low-quality evidence):
Drug therapy should be given for 5 years; the decision to continue beyond 5 years should reflect the reassessment of risk and benefit.
Bisphosphonate therapy should be offered to men with "clinically recognized" osteoporosis.
Clinicians should not monitor BMD during the initial 5-year drug treatment period because no studies have proven that such monitoring improves fracture outcomes.
For older women (age, >65) with osteopenia (i.e., T-score between −1.0 and −2.5) who are at high risk for frac-tures, treatment decisions should balance benefit and harm and be guided by patient preferences and fracture risk (according to clinical judgment or a risk-assessment tool such as FRAX Older women with osteopenia in the T-score range of −2.0 to −2.5 are most likely to benefit.
For more details click on the following link:  Annals of Internal Medicine, 2017 DOI: 10.7326/M15-1361