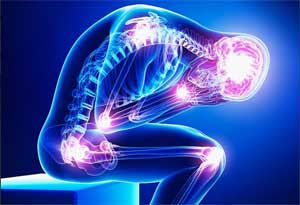 Fibromyalgia Action UK has released a guideline on diagnosis and management of Fibromyalgia — a condition characterized by widespread muscular pain.
Diagnosis
It is important to take a careful history and to acknowledge the individual's experience and description of pain. Patients with fibromyalgia do not look ill and do not appear clinically weak. Apart from the restriction of movement due to pain and the presence of the multiple tender points, physical examination tends to be unremarkable. Blood tests, X-rays, and scans will typically yield a negative result.
Red flags indicating other potential pathology could include:

involvement of the joints
systemic malaise, especially with weight loss
evidence of thyroid dysfunction

New presenting symptoms will need to be considered and possibly investigated as they arise. Appropriate referral on to other healthcare professionals (e.g. rheumatologist) will need to be determined at this stage.
Symptom list and differential diagnosis
Main symptoms:

widespread muscular pain
generalized stiffness
persistent fatigue
non-refreshing sleep

Main sign:
Commonly associated symptoms:

irritable bowel syndrome
cognitive dysfunction
exercise intolerance
anxiety and reactive depression

Other associated symptoms:

numbness and tingling
cold and heat sensitivity
headaches
temporomandibular joint dysfunction
Raynaud's phenomenon
restless legs
dysmenorrhoea
irritable bladder

Differential diagnosis—this may include:

polymyalgia rheumatica
regional myofascial pain
hypothyroid
myalgic encephalomyelitis
systemic lupus
lymes disease
osteoarthritis
connective tissue disease
Classification criteria
History of widespread pain
Pain is considered widespread when all of the following are present: pain in the left side of the body, pain in the right side of the body, pain above the waist and pain below the waist. In addition, axial skeletal pain (cervical spine or anterior chest or thoracic spine or low back) must be present. Shoulder and buttock pain is considered as pain for each involved side. 'Low back' pain is considered lower segment pain.
Pain in 11 of 18 tender points sites on digital palpation
Pain, on digital palpation, must be present in at least 11 of the following 18 tender points sites:

insertion of nuchal muscles into occiput
upper border of trapezius mid-portion
muscle attachments to upper medial border of scapula
anterior aspects of the C5, C7 intertransverse spaces
second rib space—about 3 cm lateral to the sternal border
muscle attachments to lateral epicondyle
upper outer quadrant of gluteal muscles
muscle attachments just posterior to greater trochanter
medial fat pad of knee proximal to joint line

Digital palpation should be performed with an approximate force of 4 kg/cm2. For a tender point to be considered 'positive' the subject must state that the palpation was painful. 'Tender' is not to be considered 'painful.'
For classification purposes, patients will be said to have fibromyalgia if both criteria are satisfied. Widespread pain must have been present for at least 3 months. The presence of a second clinical disorder does not exclude the diagnosis of fibromyalgia.
Pharmacological management
Many patients may find available medications either insufficient to control their symptoms or difficult to tolerate due to a high incidence of adverse effects. Therefore, all medications should be reviewed at regular intervals to monitor their efficacy. Awareness by patients that some adverse effects may resolve in time can encourage continuation with treatment.
General intolerance to medication will dictate the treatment used. Individualised programmes of pharmacological and non-pharmacological therapy may be more effective than drug treatment alone.
Management often involves the use of antidepressants and anticonvulsants. Low dose tricyclic antidepressants (TCAs), such as amitriptyline, are used commonly to reduce pain and improve sleep and fatigue. However, tolerability and durability of TCAs is poor.
Selective serotonin reuptake inhibitors (SSRIs) can improve the symptoms of pain, fatigue, and depression. SSRIs can cause insomnia and restlessness, therefore, morning administration is recommended. Although better tolerated than TCAs, beneficial effects of SSRIs can be less reliable.
Serotonin and noradrenaline reuptake inhibitors (SNRIs), e.g. duloxetine and milnacipran, reduce pain and improve physical function and quality of life.
The benefits due to any of the antidepressants are independent of their effect on mood.
Pregabalin and gabapentin also reduce pain and improve sleep quality, fatigue, and quality of life.
Alternatively, tramadol, a centrally acting analgesic with SNRI properties, will reduce the pain; or pramipexole, a dopamine agonist, can improve pain, fatigue, function, and global well-being.
Muscle relaxants, e.g. baclofen or tizanidine, can be helpful if muscle twitching or cramps accompany the pain.
Poor sleep quality is common in fibromyalgia and hypnotics such as zolpidem improve sleep and fatigue, but do not modify pain.
Benzodiazepines can be useful for initially re-establishing a sleep routine, but long-term use may have associated risks.
Irritable bowel syndrome is a common co-morbidity. Use of antispasmodics, e.g. mebeverine or alverine, may reduce the spasm of hypersensitive bowels. Intolerance to wheat and/or dairy products and excess fiber may exacerbate the symptoms. A well-balanced diet is required, especially if complicated by medications causing weight gain.
Symptoms of depression can arise from the fear and isolation of living with chronic pain. Coming to terms with living with fibromyalgia and adopting changes in attitude and lifestyle is often sufficient to deal with depressive symptoms. It is important to tackle any co-existing factors that may be contributing to the depression. In persistent cases, antidepressants can prove effective.
Non-pharmacological management
Psychosocial factors play an important part in fibromyalgia and its successful treatment.
No individual factor can be used as a reliable predictor of poor outcome, but the following factors in combination tend to do so:

belief that pain is harmful or severely disabling
fear-avoidance behavior (avoiding an activity through fear that it will cause pain)
emotions—tendency to low mood, withdrawal from normal social interaction
expectations of receiving passive treatment rather than active participation in a treatment programme

Cognitive behavioral therapy aimed at helping patients to understand their pain and to develop coping strategies has been shown to be most effective. Patient and therapist collaborate to understand the specific difficulties that the patient is experiencing, recognizing unhelpful habits and behavior, and developing positive strategies for coping with the effects of fibromyalgia.
Key principles of exercise management:

exercise can reduce pain
exercise is a means to increase daily activity levels and can involve any kind of activity from gardening to walking down the road
encourage the individual to choose a type of exercise that reflects their interests, their physical goals, or specific activities they wish to return to or increase
a tolerance and baseline approach is the best way to get someone starting to exercise gradually over time
encourage the individual to be patient and to persevere with a flexible routine they can easily incorporate into their daily lifestyle
if they experience difficulty continuing to exercise on a bad day, remind them that they will need to modify their exercises in order to achieve their planned number for the day

Fatigue and poor sleep are common adjuncts to fibromyalgia, it can be helpful for the patient to manage activity in a way that uses energy wisely. Prioritising, planning, and pacing activity can make a significant impact on the amount people can do in the long-term.
There is limited empirical research to substantiate the use of alternative therapies. However, more focused on-going research is beginning to recognize some physiological and emotional benefits of these interventions:

osteopathy
acupuncture
massage therapy
herbal remedies
The following two tabs change content below.
Medha Baranwal
Medha Baranwal joined Medical Dialogues as a Desk Editor in 2018 for Speciality Medical Dialogues. She covers several medical specialties including Cardiac Sciences, Dentistry, Diabetes and Endo, Diagnostics, ENT, Gastroenterology, Neurosciences, and Radiology. She has completed her Bachelors in Biomedical Sciences from DU and then pursued Masters in Biotechnology from Amity University. She can be contacted at medha@medicaldialogues.in. Contact no. 011-43720751
Latest posts by Medha Baranwal (see all)