Guideline for management of Aspergillosis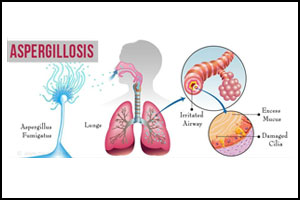 Aspergillus species continue to be an important cause of life-threatening infection in immunocompromised patients. This at-risk population is comprised of patients with prolonged neutropenia, allogeneic hematopoietic stem cell transplant (HSCT), solid organ transplant (SOT), inherited or acquired immunodeficiencies, corticosteroid use, and others. Aspergillosis is the wide variety of diseases caused by infection by Aspergillus.
The European Society for Clinical Microbiology and Infectious Diseases, the European Confederation of Medical Mycology, and the European Respiratory Society have issued Joint Clinical Guidelines for diagnosis and management of aspergillosis. The guidelines are published in the journal Clinical Microbiology and Infection.
Key Recommendations:


Chest computed tomography (CT), as well as bronchoscopy with bronchoalveolar lavage (BAL) should be performed in patients with suspicion of pulmonary invasive aspergillosis (IA), are strongly recommended.


For diagnosis, direct microscopy, preferably using optical brighteners, histopathology, and culture are strongly recommended.


Pathogen identification to species complex level is strongly recommended for all clinically relevant Aspergillus isolates; antifungal susceptibility testing should be performed in patients with invasive disease in regions with resistance found in contemporary surveillance programs.


Serum and BAL galactomannan measures are recommended as markers for the diagnosis of IA.


Polymerase chain reaction should be considered in conjunction with other diagnostic tests.


Isavuconazole and voriconazole are the preferred agents for the first-line treatment of pulmonary IA, whereas liposomal amphotericin B is moderately supported.


Combinations of antifungals as primary treatment options are not recommended.


Therapeutic drug monitoring is strongly recommended for patients receiving posaconazole suspension or any form of voriconazole for IA treatment, and in refractory disease, where a personalized approach considering a reversal of predisposing factors, switching drug class and surgical intervention are also strongly recommended.


Primary prophylaxis with posaconazole is strongly recommended in patients with acute myelogenous leukemia or myelodysplastic syndrome receiving induction chemotherapy.


Guidelines from the Infectious Diseases Society of America (IDSA) for treatment of aspergillosis and replaces that replaces the practice guidelines for Aspergillus published in 2008. The recommendations are published in the journal Clinical Infectious Diseases.
Key Recommendations:


Submit tissue and fluid specimens for histopathologic, cytologic, and culture examination to diagnose invasive aspergillosis. However, molecular techniques, such as DNA sequencing, should be used to identify Aspergillus species in cases that involve either isolates with atypical growth or concern for resistance.


If invasive pulmonary aspergillosis is suspected, the guidelines recommend performing CT scanning of the chest, regardless of chest radiography findings.


Detection of galactomannan (a component of the Aspergillus cell wall) in serum or bronchoalveolar lavage fluid is recommended as an accurate marker for the diagnosis of invasive aspergillosis in adults and children, when used in certain patient subpopulations, such as hematopoietic stem cell transplant recipients or patients with hematologic malignancies.


Serum assays for (1 → 3)-β-D-glucan are recommended for diagnosing invasive aspergillosis in high-risk patients (hematologic malignancy, allogeneic hematopoietic stem cell transplant), but are not specific for Aspergillus.


If invasive pulmonary aspergillosis is suspected, antifungal therapy should be initiated while diagnostic evaluation is ongoing. Voriconazole is recommended for primary treatment of invasive pulmonary aspergillosis, although combination therapy with voriconazole and echinocandin may be warranted for some high-risk patients.


Antifungal therapy for invasive pulmonary aspergillosis should continue for at least 6-12 weeks. Antifungal prophylaxis should also be instituted for patients with prolonged neutropenia who are at high risk for invasive aspergillosis. Prophylactic regimens with posaconazole, voriconazole, and/or micafungin are considered to be most effective.


Amphotericin B deoxycholate and its lipid derivatives are appropriate options for initial and salvage therapy of Aspergillus infections when voriconazole cannot be administered.


Aerosolized formulations of amphotericin B may be considered as prophylaxis in patients with prolonged neutropenia.


Triazoles are preferred agents for the treatment and prevention of invasive aspergillosis in most patients.


The guidelines do not recommend routine antifungal susceptibility testing. Instead, it should be reserved for cases in which infection with an azole-resistant isolate is suspected, or in which a patient is unresponsive to antifungal agents.


Recommend prophylaxis with posaconazole, voriconazole, and/or micafungin during prolonged neutropenia for those who are at high risk for invasive aspergillosis.


For more information click on the link:
https://doi.org/10.1016/j.cmi.2018.01.002
and
https://doi.org/10.1093/cid/ciw326
Source : With inputs from CID and CMI