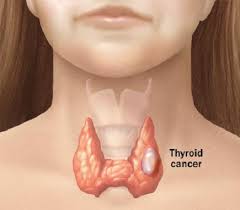 Thyroid ultrasound was increasingly used for initial imaging between 2002 and 2013. A new study published in the Journal of Clinical Endocrinology & Metabolism finds that this increased use of thyroid ultrasound is associated with an increased diagnosis of low-risk thyroid cancer, with the greatest increase in adults aged ≥ 65.
Megan R Haymart, the University of Michigan in Ann Arbor, and colleagues conducted the study to determine the relationship between area-level use of imaging and thyroid cancer incidence over time in patients 65 and above. 
To investigate the relationship, Dr. Haymart and her colleagues used two separate data sets: Medicare claims data to assess imaging, and Medicare data linked with the Surveillance, Epidemiology and End Results (SEER) registry (SEER-Medicare) to determine cancer incidence.
Also Read: Thyroid cancer survivors at higher risk of developing CVD
Key Findings:
Controlling for time and demographics, use of thyroid ultrasound was significantly linked with thyroid-cancer incidence.
These results have remained significant when restricted to papillary thyroid cancer, localized papillary thyroid cancer, or localized papillary thyroid cancer with tumors under 1 cm.
According to this model, between 2003 and 2013, at least 6,594 individuals 65 and above – disproportionately women and patients with comorbidities – were diagnosed with thyroid cancer due to increased use of thyroid ultrasound.
Females and patients with comorbidities were more likely to have thyroid ultrasound as initial imaging.
Also Read: US task force recommends against thyroid cancer screening
"A major strength of this study was our ability to use two complementary databases (Medicare and SEER-Medicare) to evaluate area-level imaging and area-level incidence of thyroid cancer over time," according to Dr. Haymart.
"Patients age 65 and above was an appropriate cohort because older adults have both the largest change in thyroid cancer incidence and the greatest risks from downstream treatments. Similar trends in thyroid cancer incidence are seen in younger adults, so it is plausible that these findings are generalizable to adults under 65," she explained.
"Greater thyroid ultrasound use led to increased diagnosis of low-risk thyroid cancer; emphasizing the need to reduce harms through reduction in inappropriate ultrasound use and adoption of nodule risk stratification tools," concluded the authors.
For further reference log on to https://doi.org/10.1210/jc.2018-01933