Gout tied to higher odds of hearing loss in elderly-BMJ Study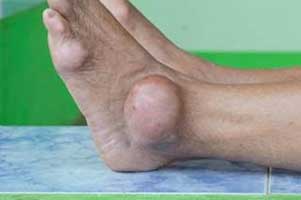 People aged 65 years and above with gout are at increased risk for incident hearing loss, reports a study published in BMJ.
Jasvinder A Singh and his associates conducted a study to evaluate whether gout is associated with a higher risk of hearing loss in older adults.
The researchers did a retrospective cohort study which included participants aged 65 years and above. The primary outcome was incident (new) hearing loss identified by the presence of at least two claims at least 4 weeks apart with no respective claim in the baseline 1-year observation period.
Read Also:Gout drug Probenecid found effective in adult heart failure : JAMA
Key study findings:


Among the 1.71 million eligible people, 89 409 developed incident hearing impairment.


The crude incidence rates of incident hearing impairment in people with versus without gout were 16.9 vs. 8.7 per 1000 person-years.


Gout was associated with a significantly higher HR of incident hearing impairment, HR was 1.44. The risk for the new hearing loss was 44% higher among patients with gout.


The study concluded that gout is associated with a higher risk of development of hearing loss in older adults. The authors warrant the need for future studies to assess the underlying mechanisms of this association.
Gout is a common and complex form of arthritis which is characterized by sudden, severe attacks of pain, swelling, redness, and tenderness in the joints, often the joint at the base of the big toe. An attack of gout can occur suddenly. The affected joint is hot, swollen and so tender that even the weight of the sheet on it may seem intolerable.
For reference log on to http://dx.doi.org/10.1136/bmjopen-2018-022854
Source : With inputs from BMJ