Gout patients at more than 'double the risk' for kidney failure: BMJ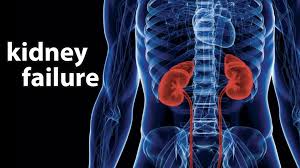 Ireland: Gout patients are at more likely to develop chronic kidney disease and kidney failure, a recent study published in the BMJ journal has found.
According to the study, patients with a diagnosis of gout were more than twice the risk for kidney failure than those without. This is one of the largest and most detailed studies ever conducted on this subject that used data from more than 620,000 patients in the UK health system.
Gout is the most common inflammatory arthritis affecting 2.4% of adults and typically affects older populations. It is caused by the accumulation of uric acid in the joint. Gouty patients have high levels of hypercholesterolemia and hypertriglyceridemia.
Chronic kidney disease (CKD) is a major public health epidemic, with at least 1 in 10 individuals having some degree of kidney impairment, contributing substantially to adverse clinical and economic outcomes.
"Elevated levels of uric acid are known to initiate renal injury through the development of tubulointerstitial fibrosis and intraglomerular hypertension. Prospective studies have demonstrated strong associations between hyperuricaemia and kidney disease progression with elevated risks for CKD and kidney failure. It is plausible that compared with hyperuricemia alone gout may further increase the risk of CKD, potentially mediated by greater exposure to non-steroidal anti-inflammatory drugs (NSAIDs), repeated cycles of systemic inflammation from gout flares, higher urate burden and longer periods of exposure. A better understanding of gout and its potential for increasing the risk of CKD is warranted," write the authors.
Austin G Stack, University of Limerick, Limerick, Ireland, and colleagues evaluate the association between gout and risk of advanced chronic kidney disease.
The retrospective matched cohort study included 68 897 patients with gout, followed them for an average of 3.7 years and compared them to 554 964 patients without gout.
Patients were aged ≥18 years, registered at UK practices, had ≥12 months of clinical data and had data linked with Hospital Episode Statistics. Patients were excluded for a history of advanced CKD, juvenile gout, cancer, HIV, tumour lysis syndrome, Lesch-Nyhan syndrome or familial Mediterranean fever.
Also Read: Despite available effective gout treatment, opioids still over prescribed
Key findings include:


Advanced CKD incidence was higher for patients with gout (8.54 per 1000 patient-years) versus without gout (4.08).


Gout was associated with higher advanced CKD risk in both unadjusted analyses and after adjustment.


Association was strongest for ESKD and was present for eGFR <10 mL/min/1.73 m² and serum creatinine doubling but not CKD-associated death.


Association of gout with advanced CKD was replicated in propensity-score matched analysis and analysis limited to patients with incident gout.


Also Read: Common heartburn medications linked to kidney failure in elderly
"The results were quite astonishing," said Professor Stack. "While we always believed that high levels of uric acid might be bad for kidneys and that patients with gout may have a higher risk of kidney failure, we were quite surprised by the magnitude of the risk imposed by gout in these patients. We were particularly interested in the risk of advanced kidney disease, as these patients, in general, have a higher risk of kidney failure and death.
"In our analysis, we defined advanced kidney disease based on four specific criteria; need for dialysis or kidney transplant; failing kidney function to less than 10% of normal; doubling of serum creatinine from baseline; and death associated with CKD.
"Overall, we discovered that patients who suffered from gout had a 29% higher risk of advanced CKD compared to those without gout. Indeed when we analysed each of the components of advanced kidney disease, we found that in general gout patients were at higher risk of a deterioration in kidney function compared to those without.
"Astonishingly, when we looked at the risk of kidney failure and those who needed dialysis or a kidney transplant, we found that gouts patients had more than a 200% higher risk of kidney failure than those without gout," Professor Stack added of the study.
The study sheds new light on the importance and potential impact of gout on kidney function. Although previous studies have shown that gout patients have a higher burden of kidney disease, none has convincingly shown that gout can contribute to the development of kidney failure.
"Our study had several important strengths that overcame the limitations of previous studies. It is one of the largest studies ever conducted with over 620,000 patients included," said Professor Stack.
"Second, the study was representative of patients that are typically seen in general practice within the UK health system. Third, the analysis accounted for known confounders -- factors that may have contributed to the development of kidney diseases like hypertension and diabetes -- and our findings were further confirmed in several additional analysis. Taken together, the findings from this study suggest that gout is an independent risk factor for progression of CKD and kidney failure."
"Each year over 450 patients develop kidney failure in Ireland and require some form of dialysis treatment or a kidney transplant," explained Professor Stack.
"This continues to be the case despite our best efforts at controlling blood pressure m diabetes and other well-established risk factors. In fact, in over a decade, the numbers of patients who develop kidney failure in Ireland has increased from 2,848 in 2005 to 4,440 in 2017 (a growth of 56%).
"The result of this new research suggests that gout may also play an important role in the progression of kidney disease. The identification of gout as a potential risk factor opens up new opportunities for the prevention of kidney disease and its consequences," added Professor Stack.
To read the full study log on to 10.1136/bmjopen-2019-031550