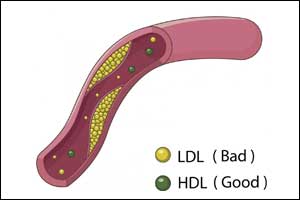 The cardioprotective role of high-density lipoproteins (HDL) – also known as 'good cholesterol' – may be impacted by postmenopausal factors, according to a new study published in the journal Arteriosclerosis, Thrombosis, and Vascular Biology. Findings indicate that the 'good cholesterol' might not lower the risk of cardiovascular disease in older women.
The study points out that the traditional measure of the good cholesterol might not result in an accurate depiction of heart disease risk for postmenopausal women.
Samar R. El Khoudary, associate professor in Pitt Public Health's Department of Epidemiology, and colleagues conducted the study to evaluate the association of HDL-C and ion mobility HDL particles (HDL-P) with  carotid intima-media thickness (cIMT) and carotid plaque separately and jointly in women; and to assess the interactions by age and time since menopause.
HDL is a family of particles found in the blood that vary in sizes and cholesterol contents. HDL has traditionally been measured as the total cholesterol carried by the HDL particles, known as HDL cholesterol. Previous studies have demonstrated the cardioprotective role of HDL, that carries fats away from the heart reducing the plaque accumulation and lowering the risk for cardiovascular disease.
As women transit through the phase of menopause they are subjected to a variety of physiological changes in their lipids, sex hormones, vascular health and body fat deposition.
Read Also: High HDL-C arrests cognitive decline in older diabetics
The authors hypothesized that decrease of estrogen, a cardio-protective sex hormone, along with other metabolic changes, can trigger chronic inflammation over time, which may alter the quality of HDL particles.
For the study, the investigators analyzed 1,138 women aged 45 through 84 enrolled across the U.S. in the Multi-Ethnic Study of Atherosclerosis (MESA), a medical research study. Women with unknown or early menopause were excluded.

The team observed the size and number of HDL particles and total cholesterol carried by HDL particles. The study also involved the analysis of women's transition through menopause, amount of time since transitioning and its impact on expected cardio-protective associations of HDL measures.
Key Findings:
Adjusting for each other, higher HDL-P but not HDL-C was associated with lower cIMT (P=0.001), whereas higher HDL-C but not HDL-P was associated with greater risk of atherosclerosis.
Time since menopause significantly modified the association of large but not small HDL-P with cIMT; higher large HDL-P was associated with higher cIMT close to menopause but with lower cIMT later in life.
The proatherogenic association reported for HDL-C with carotid plaque was most evident in women with later age at menopause who were >10 years postmenopausal.
The harmful association of higher HDL cholesterol with atherosclerosis risk was most evident in women with older age at menopause and who were greater than, or equal to, 10 years into postmenopause.
Having a high number of small HDL particles was found beneficial for postmenopausal women.
Large HDL particles are linked to an increased risk of cardiovascular disease close to menopause.
As women move further away from their transition, the quality of the HDL may restore–making the good cholesterol cardio-protective once again.
"The results of our study are particularly interesting to both the public and clinicians because total HDL cholesterol is still used to predict cardiovascular disease risk," said Dr. El Khoudary. This study confirms our previous work on a different group of women and suggests that clinicians need to take a closer look at the type of HDL in middle-aged and older women, because higher HDL cholesterol may not always be as protective in postmenopausal women as we once thought. High total HDL cholesterol in postmenopausal women could mask a significant heart disease risk that we still need to understand."
"We have been seeing an unexpected relationship between HDL cholesterol and postmenopausal women in previous studies, but have never deeply explored it," said El Khoudary. Her study looked at two specific measurements of HDL to draw the conclusion that HDL cholesterol is not always cardio-protective for postmenopausal women, or not as 'good' as expected.
"Elevated HDL-C may not always be cardioprotective in postmenopausal women. The cardioprotective capacity of large HDL-P may adversely compromise close to menopause supporting the importance of assessing how the menopause transition might impact HDL quality and related cardiovascular disease risk later in life," concluded the authors.
For more information follow the link: https://doi.org/10.1161/ATVBAHA.118.311017