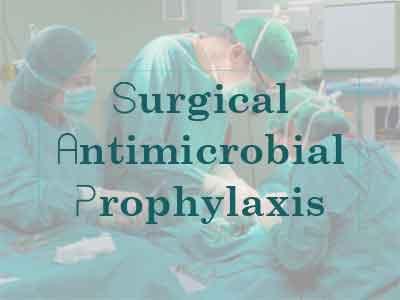 In 2016 National Centre For Disease Control, Directorate General of Health Services, Ministry of Health & Family Welfare, Government of India came out with National Treatment Guidelines for Antimicrobial Use in Infectious Diseases.
Following are major recommendation for 
Surgical Antimicrobial Prophylaxis : 
To be administered within 1 hr before the surgical incision.
Single dose is recommended. Consider for second intra-operative dose in prolong surgery based on the choice of antibiotic used for prophylaxis.
 Prophylaxis should not be given beyond surgery duration (except for cardiothoracic surgery, up to 48 hours permissible)
 Choice of the prophylaxis should be based on the local antibiogram.
| | |
| --- | --- |
| SURGERY | MEDICATION |
| Breast | Inj.Cefazolin 2gm or Inj.Cefuroxime 1.5gm IV stat |
| Gastroduodenal & biliary | Inj.Cefaperazone- Sulbactam 2gm IV stat & BD for 24hrs(maximum) |
| ERCP | Inj.Piperacillin-Tazobactum 4.5gm or Inj.Cefaperazone- Sulbactam 2gm IV stat |
| Cardiothoracic | Inj.Cefuroxime 1.5gm IV stat & BD for 48hrs |
| Colonic surgery | Inj.Cefaperazone- Sulbactam 2gm IV stat & BD for 24hrs(maximum) |
| Abdominal surgery (hernia) | Inj.Cefazolin 2gm or Inj.Cefuroxime 1.5gm IV stat |
| Head & Neck/ ENT | Inj.Cefazolin 2gm IV stat |
| Neurosurgery | Inj.Cefazolin 2gm or Inj.Cefuroxime 1.5gm IV stat |
| Obstetrics& Gynecology | Inj.Cefuroxime 1.5gm IV stat |
Orthopaedic
Inj.Cefuroxime 1.5gm IV stat & BD for 24 hrs(maximum)

or

Inj.Cefazolin 2gm IV stat

Open reduction of closed fracture with internal fixation- Inj.Cefuroxime 1.5gm IV stat and q 12h or Inj.Cefazolin 2gm IV stat and q 12h for 24 hrs

Trauma
Inj.Cefuroxime 1.5gm IV stat and q 12h (for 24 hrs) or Inj.Ceftriaxone 2gm IV OD
Urologic procedures
Antibiotics only to patients with documented bacteriuria
Trans- rectal prostatic surgery
Inj.Cefaperazone- Sulbactam 2gm IV stat
You can read the full Guideline by clicking on the following link :
http://www.ncdc.gov.in/writereaddata/linkimages/AMR_guideline7001495889.pdf